Note: Make sure to @ tweet @illegalcurve with your guess during tonight's game you can win IC Gear by participating in our twitter Game Winning Goal contest. Remember that for your vote to qualify you must send in your guess by hashtaging (#) our Game Winning Goal (GWG) contest. (i.e. #ICGWG Andrew Ladd).
Jets news:
Hockey's Futures:  Top 50 of 2013 rankings.  Scheifele ranked #33 and Trouba ranked #37.
Winnipeg Free Press:  Ondrej finds a way.  It is why we have sayings like Ondrej the Giant or Pavelectricity.  Despite his heavy workload, the Jets #1 goalie continues to thrive.
Winnipeg Free Press:  Trouba pondering going pro?  This rumour has been making the rounds since the University of Michigan Wolverines playoffs ended.  Seemed like a long shot at the beginning of the season, but who knows.  We will look at the potential ramifications of this decision on Wednesday's NHL Mid-Week with Illegal Curve Hockey on TSN Radio 1290.
Winnipeg Free Press:  Trade deadline could be big for the Jets… or not.  How the Jets play this week will likely be the determining factor if Winnipeg GM Kevin Cheveldayoff decides to be a buyer or seller.
Winnipeg Sun:  Trouba may take run at pro.  While the thought of adding a stud defenceman to the squad has Jets fans salivating, he may still require some seasoning before jumping to the NHL level.
Winnipeg Sun:  Little coming up big.  He had been quiet before Sunday's game against the Lightning with just three assists in his previous eight games.  However he simply played a sensational game on Sunday, one in which he was noticeable all over the ice.  The Jets are going to need him to maintain this level if they want to make playoffs.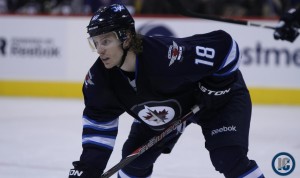 Winnipeg Sun:  Jets under pressure from Hurricanes.  Carolina has been sitting, waiting for Winnipeg since they lost 4-1 to the New Jersey Devils last Thursday.  They have lost five straight (one in a shootout) but also hold three games in hand on the Jets and sit just four points back.
Winnipeg Sun:  Hurricanes trainers recount Jets' Zach Redmond's accident.  Some real heroism on all fronts as everyone joined in to save the life of the young Jets player.
The Hockey Writers:  The Top 10 Most Underrated NHL Players.  Looks like a member of the Winnipeg Jets was #1 on this list.
Jets opposition (Hurricanes) news:
News and Observer:  Canes sign Alexander Semin to 5-year extension.  A big move by a self-described budget team.
News and Observer:  Rested Canes refocused, ready for Jets.  They have had plenty of time off to get ready for one of the most important games of the season.
NHL news:
Tampa Bay Tribune:  Lightning hire Cooper as head coach.  Steve Yzerman had a couple of options and chose to promote from within.  He gets a coach who knows these players, although one without NHL coaching experience.