Note: We are at the conclusion of the Team Illegal Curve Beard growing competition as Ezra and Drew helped to support the Heart and Stroke Foundation of Manitoba in conjunction with the Festival du Voyageur in the 31st annual beard growing contest.  Here are the final pictures of Ezra and Drew from Week 1 to Week 10.

Note II: Tune into the Illegal Curve Hockey Show on TSN Radio 1290 as the guys discuss all the latest Winnipeg Jets and NHL news from 6 am to 9 am on Saturday (That is not a typo.  With the Flyers game starting at noon, the guys are getting up early to provide you with all the latest news).  Guest:  Anthony SanFilippo (PhiladelphiaFlyers.com)
Jets news:
Winnipeg Free Press:  Chaplain provides spiritual mentorship for players.  One of the nicest guys in the Press Box each game.  Lorne is a great guy to chat with and the @illegalcurve crew does so on a regular basis, although for us, we keep it out of the spiritual realm.
Winnipeg Free Press:  Jets have recalled defenceman Julian Melchiori to replace Remond.  You have to feel bad for the St. John's IceCaps of the American Hockey League who have been decimated by the Jets calling up their entire defence.  (Postma, Redmond, Clitsome and now Melchiori).
Winnipeg Free Press:  Every game, a very good Ladd shows why he's captain.  Not sure I see Ladd as a lighting rod on this team but he has definitely blossomed in his role of leader of the Jets.  In his 500th NHL game he had a night to remember and helped his squad to an important victory.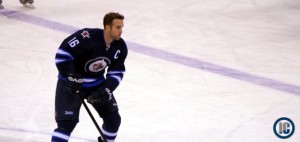 Winnipeg Free Press:  Ugly, scary day ends with nice win on ice.  While it seems too early to be calling 'must wins' last night sure seemed of that variety.  They took a clean two points from a division rival and more importantly did not wilt after quickly giving up a tying goal once they took the lead.  Coach Noel still has room for improvement.
Winnipeg Free Press:  They won one for Zach.  An injured team mate can be a powerful motivator and while the horrendous injury to young defenceman Zach Redmond clearly impacted the team, they showed good resolve in knocking off the Hurricanes.
TSN:  Jets end difficult day with win over Hurricanes.  There are still a number of problem areas that coach Noel is going to need to fix but for the second straight game Winnipeg had a strong penalty kill (3/3) and Ondrej Pavelec kept his team in the game.
Winnipeg Sun:  Snapshots – winning ugly but who cares.  At the end of the day a win is a win and as long as you have 2 points in your pocket, not many remember if the win was pretty or not.  Paul also touches on Redmond's injury, masked adventures, captain Ladd's storybook evening, shaky start, Blunt Blake Wheeler and 5 on 3 blues.

Winnipeg Sun:  Redmond resting after surgery on femoral artery.  It was a scary incident which deeply affected the team.  Following the victory coach Noel spoke how it was clear to him that his team was still feeling the effect of seeing their team mate injured.
CBC:  Captain Ladd leading the way.  While he is being asked to play above his natural fit, until this team improves via the draft or trade, he is going to have to play those types of minutes/situations.
Illegal Curve:  Jets on a Deadline – Jets 4 Hurricanes 3.  Game recaps, video highlights and the NHL.com 3 Stars of the night.
Yahoo Canada:  Why the WHL would work in Winnipeg.  Looks like the WHL has a couple of struggling clubs that could call the MTS Centre home.  Would be fun to have a friendly rivalry with Brandon.  Would you support WHL hockey if it returns to Winnipeg?
NHL news:
Columbus Dispatch:  Anisimov is stable, alert and moving.  Two extremely distressing on-ice injuries yesterday.  While the Jets Redmond's didn't happen in front of the cameras, Anisimov's happened during the Red Wings and Blue Jackets game.  It looked extremely scary at the time and it is good to hear that he is doing better.  For those that missed the play where Anisimov was injured here is a link.
Edmonton Journal:  Twitterverse reacts to Taylor Hall's hit on Clutterbuck.  Taylor Hall should expect to be hit by the Shanaban as most of the hockey world felt it was a dirty, knee on knee hit.
Ottawa Citizen:  Senators lose star goalie Anderson.  As if losing Karlsson and Spezza wasn't enough, it looks like they might be without the services of number one goalie Craig Anderson for awhile.
Globe and Mail:  Brian Burke takes scouting job with Anaheim.  Going back to where he had his greatest success, Burke and the Leafs have terminated their relationship as he moves on…or back to the Ducks.