Note:  Make sure to @ tweet @illegalcurve with your guess in this evening's contest.  You can win IC Gear by participating in our twitter Game Winning Goal contest. Remember that for your vote to qualify you must send in your guess by hashtaging (#) the Game Winning Goal (GWG) contest. (i.e. #ICGWG Ladd).
Jets news:
Illegal Curve: Zach Redmond cut on the ice at practice. We have updated the post to include coach Noel's scrum which not surprisingly, is focused on the injury to the young defenceman.  If you cannot listen to audio while at work Ed Tait was at PNC Arena and filed this report for the Winnipeg Free Press.
Winnipeg Free Press: Wheeler finds his grove.  Considering the tenor of the conversation that was had with him just before the team departed for this road trip it is shocking to see the 180 that his game has taken.  Of course same is limited to one game and we will see tonight if he is able to keep playing at that high level.
Winnipeg Sun:  Blake Wheeler finally on a roll again.  Getting no points in a game is not always a fair indication of an impact on the game.  Wheeler used his speed to the benefit of his team mates and was the most dangerous player on the ice against the Sabres.  He said moving forward he will continue to play like this and if he is able to maintain this momentum, the Jets will be a much better team.
Winnipeg Sun:  Captain Andrew Ladd set to play 500th NHL game in city where career started.  He has been a solid leader for the Jets for the past season and a bit and Ken Wiebe breaks down the captain's career.  He is currently tied with the injured Tobias Enstrom for most points on the team and leads Winnipeg in goals with eight.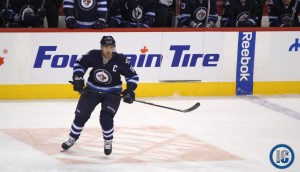 Winnipeg Sun:  Evander Kane laments missing open net.  It was one of those misses that made you think at the time "oh boy, that is going to burn the Jets" but when the final buzzer finally sounded, allowed for the team to make light of the miss.
CBC:  Jets' Music Man.  DJ Lee Godfrey explains what goes into the Jets' game soundtrack.  It is quite funny being in my car hearing a song on the radio and thinking why is this so familiar and then realizing they play it during warm-up.
Jets affiliate and prospect news:
TSN:  O'Dell scores hat trick to lead IceCaps past Whale.  The IceCaps continued their inconsistent play as they have lost, won, lost and now won again in their last four games.  They face a tough Toronto Marlies on Sunday.  Caps are six points out of a playoff spot.
Jets opposition (Carolina Hurricanes) news:
News and Observer:  Jeff Skinner out indefinitely with concussion.    An unfortunate injury for the Canes although the Jets won't be crying about not having to face the talented Skinner.
NHL Mid-Week with Illegal Curve Replay:

Replay:  Buffalo Sabres fire Lindy Ruff, Interview with Bill Hoppe of the Olean Times Herald.  Six things we learned this Week.  Interview with Frank Provenzano, Assistant GM of the Dallas Stars.  Break it Down, Keep Your Eye On.
NHL news:
The Province:  Hansen gets one-game suspension for forearm to Hossa's head.  You wonder if Hansen got the game because of Hossa's past injury issues.
Orange County Register:  Ducks don't waste time, make Fasth deal.  The puns on twitter yesterday regarding the Ducks 8-0 goalie came fasth and furious (oh ya, that's right, I went there).  Anaheim rewarded him with a two year deal.
Buffalo News:  Firing brings Ruff era to startling end.  Bet the Jets are wondering if it was something they did.  On the heels of his team losing 2-1 to Winnipeg, the formerly longest tenured coach in the NHL was let go by Buffalo.  It was somewhat surprising considering he ran a full 90 minute practice and then met with the media before he was informed that he was being let go.
CBC:  Ron Rolston brings technically sound plan to Buffalo.  In case you were wondering who would be replacing Lindy Ruff as coach of the Sabres, Elliotte Friedman introduces you to the older brother of former NHLer Brian Rolston.
Philadelphia Inquirer:  Voracek scores hat trick as Flyers edge Penguins.  The Pens took a quick 2-0 lead and the game looked over before it had really even started.  However Philadelphia led by Voracek and Simmonds stormed back to win a crucial game for the Flyers.