Note: We are at the conclusion of the ninth week of the Team Illegal Curve Beard growing competition as Ezra and Drew help support the Heart and Stroke Foundation of Manitoba in conjunction with the Festival du Voyageur in the 31st annual beard growing contest. Every Friday we will be giving readers an update on the beard progress and here is Drew's growth from Week 8 to Week 9:

Note II: Make sure to @ tweet @illegalcurve with your guess in our contests.  During tonight's game you can win IC Gear by participating in our twitter 50/50 and Game Winning Goal contests. Remember that for your vote to qualify you must send in your guess by hashtaging (#) our 50/50 contest or the Game Winning Goal (GWG) contest. (i.e. #IC5050 $39,750 or #ICGWG Slater).
Note III: Tune into the Illegal Curve Hockey Show on TSN Radio 1290 as the guys discuss all the latest Winnipeg Jets and NHL news from noon to 3 pm on Saturday.  Guests: Mike Harrington (Buffalo News) and Jack Edwards (Play by Play voice of the Bruins for NESN).
Jets news:
Pittsburgh Tribune:  Morning skate.  The media swarms the newest Jets and you can watch his first chat with the local media.
Winnipeg Free Press:  It's not a black or white town.  Being forced to talk about racism, which remains alive and well in the year 2013, is not a bad thing.  But it was important to clarify that this was being done via social media, which is a problem which exists in cities across North America, where the anonymity of the internet allows people to say and do things they would never (one would hope) do publicly.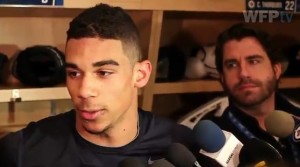 Winnipeg Free Press:  Evander doesn't mind the criticism.  When you are making five million+ dollars per season, you had best be able to handle the attention fans are going to focus on you.   But Evander is 100% correct that this criticism should be be about hockey.  As he said yesterday, if he does something off ice that draws fans ire then he is willing to accept that criticism as well, but fans should never make it about race.
Winnipeg Free Press:  It's time to make the cut.  Talk is cheap as the saying goes and it is time for players on this team to stop talking about bettering their performance and actually put these words into action.  You can tell from coach Noel's pressers that while he would like his team to win every game, he will be satisfied if he sees 100% effort from his players.
The Hockey Writers:  Waivers, sunk costs and the Penguins.  An interesting article from good friend to the IC Hockey Show, Mike Colligan who gives an interesting perspective on waivers from a Pittsburgh point of view.  For those uninterested in the business of hockey there is also an excellent assessment of Winnipeg's newest addition, Eric Tangradi.
Winnipeg Sun:  Claude Noel not happy with his Winnipeg Jets at quarter-pole.  There would probably be something very wrong if coach Noel was satisfied with his troops at this point in the season.  The team is currently in 11th but are also tied for 15th and are just four points out of 8th.

Winnipeg Sun:  'Winnipeg is a fishbowl' says Evander Kane.  He isn't wrong.  Just one quarter of the way into the second season of the return of the NHL to the city, people are still extremely interested in all things Jets.  When you consider the amount of money that fans in Manitoba are pouring into the game, I don't really think that a little extra attention is too onerous on Kane.  He should probably be thinking about that when he says that people in New York "have bigger things to talk about", which clearly intimates that folks in Winnipeg do not.

Winnipeg Sun:  Don Cherry says Evander Kane's race claim is ridiculous.  The outspoken one will be in Winnipeg tonight and he got involved in the controversy that blew through the city yesterday.
Winnipeg Sun:  Problems start in goal says Don Cherry.  The problem cannot be simply laid at the feet of Ondrej Pavelec.  The entire team needs to collectively improve.
Winnipeg Sun:  Eddie Pasquale ready to step in for Winnipeg Jets if need be.  The Jets defence knows Pasquale well and has a lot of confidence in the young netminder.  Pasquale embraced the opportunity, including the inevitable media swarm that surrounds anyone new to the room.
Illegal Curve:  Coach Claude Noel post-practice audio.  Andrew Ladd had a maintenance day.  Zach Bogosian will be a game time decision but looks ready to go.  Montoya is probably week-to-week.  Miettinen remains week-to-week.  Tangradi addition.  What would keep him from putting Bogosian into the lineup?  If he plays, what would he expect?  Talk about Pasquale.  Evander Kane talk regarding The Hockey News article.  Where does his team stand at the 1/4 pole of the season?  Having patience.  Striving for success.  Playing the right way.

Illegal Curve:  Player audio from the MTS Centre.  Eddie Pasquale and Zach Bogosian.
Illegal Curve:  Evander Kane addresses the racism claims in The Hockey News article.  Evander Kane addressed the media following the furor that resulted after the release of snippets of his The Hockey News interview in which it was asserted that the colour of his skin causes a fair degree of the criticism he has faced.
Jets opposition (Pittsburgh Penguins) news:
Pittsburgh Post-Gazette:  Top pick in 2010 for Pens could play tonight.  Quite the promotion to go from the AHL to potentially being the left winger on a line that features Malkin and Neal.
Pittsburgh Tribune:  Bylsma proves he has staying power.  He already has quite the history in just his fourth season as the Penguins bench boss.
NHL news:
Washington Post:  Eric Fehr scores twice as Capitals win third straight.  The Winkler product looks like he used the lockout time off to continue his recovery and it has paid dividends.  He has already scored more goals (3) in 11 games with the Capitals this season than he did(2) in 35 games with the Jets.
Globe and Mail:  Black cloud hangs over Senators after loss of Karlsson for the year.  The talk in the Jets dressing room yesterday was about Kevlar socks and the possibly mandating of them.  Jets defenceman Ron Hainsey spoke about adding Kevlar socks to a players wardrobe.
CBC:  Molson Coors says lockout did permanent damage.  Less hockey meant less beer was consumed.  Not shocking.
www.winnipegfreepress.com/sports/hockey/jets/its-time-to-make-the-cut-191359341.html
He should probably be thinking about that when he says that people in New York "have bigger things to talk about", which clearly intimates that folks in Winnipeg do not