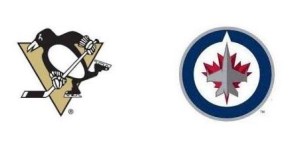 When: Friday, February 15, 2013
Time: 6:00 p.m. CST
Where: MTS Centre, Winnipeg, Manitoba
Records: Winnipeg Jets (5-6-1 – 10th in East), Pittsburgh Penguins (9-5-0 – 4th in East)
Television/Radio:  CBC, RDS, ROOT/ TSN 1290
The Story: It might be the day after Valentine's Day but the Winnipeg Jets won't be offering up leftover chocolates tonight when they host the Pittsburgh Penguins at the MTS Centre.
The Jets dropped their last game 3-2 to the Philadelphia Flyers on Tuesday night and have since undergone some significant roster changes. On Wednesday, Winnipeg acquired winger Eric Tangradi from the Pittsburgh Penguins for a draft pick and sent winger Alexei Ponikarovsky to the New Jersey Devils for two draft picks. Just one day earlier, Winnipeg recalled goaltender Eddie Pasquale from the St. John's IceCaps of the American Hockey League after it was revealed that Al Montoya would be out of the line-up for an indefinite amount of time with a groin injury.
The Jets will get a much-needed boost tonight in the form of defenceman Zach Bogosian, who will make his season debut tonight after missing the first 12 games of this season while recovering from wrist surgery.
Winnipeg will have its hands full with Pittsburgh tonight as Pittsburgh is a much more confident team than the one the Jets defeated three weeks ago. The Penguins have won seven of their last 10 games, including a 4-2 win over the Ottawa Senators on Tuesday night. Led by Captain Sidney Crosby (20 points in 14 games so far this season), Pittsburgh has been on an absolute tear as of late and have won six of eight games so far on the road.
Today's game is the second of three meetings between the Jets and Penguins this year. The Jets defeated the Penguins 4-2 back on January 25th. The third and final meeting of the season is in Pittsburgh on Thursday, March 28th (6:00 p.m. CST).
Ondrej Pavelec is expected to start in goal for the Jets tonight.
Marc-Andre Fleury is expected to start in goal for the Penguins tonight.
Follow @IllegalCurve on Twitter leading up to tonight's game.
Projected Jets line combinations (subject to change* before game time):
*as of Jets skate this morning
Goalie:
Ondrej Pavelec
Forwards:
1st: Andrew Ladd- Bryan Little- Blake Wheeler
2nd:  Evander Kane- Nikolai Antropov- Alexander Burmistrov

3rd:  Eric Tangradi– Olli Jokinen- Kyle Wellwood
4th:  James Wright- Jim Slater – Chris Thorburn
Defence:
Tobias Enstrom- Dustin Byfuglien
Zach Bogosian– Ron Hainsey
Mark Stuart- Zach Redmond
Offensive Leaders:
Pittsburgh Penguins: Sidney Crosby (6 goals, 14 assists, 20 points), Chris Kunitz (6 goals, 10 assists, 16 points), Evgeni Malkin (3 goals, 13 assists, 16 points)
Winnipeg Jets: Tobias Enstrom (2 goals, 11 assists, 13 points), Blake Wheeler (4 goals, 7 assists, 11 points), Andrew Ladd (6 goals, 5 assists, 11 points)
Injury Report:
Pittsburgh Penguins: Alexandre Picard (shoulder)
Winnipeg Jets: Antti Miettinen (upper body), Al Montoya (lower body)

Who's Next:  The Jets play the Boston Bruins this Sunday, February 17 at 5:00 p.m. CST. After Sunday's game, the Jets embark on a five games in eight days road trip starting on Tuesday, February 19 (6:00 p.m. CST) versus the Buffalo Sabres.