Note:  Don't forget to participate in the Illegal Curve #ICGWG contest (by sending us an @ tweet @illegalcurve) as the Winnipeg Jets take on the Boston Bruins.  It is a matinee game at 12 pm cst in the U.S. as they are celebrating Martin Luther King Day.
Jets news:
Winnipeg Free Press:  Brainstorming on how to win away from home.  Just as there is no guarantees that this team will play well at home, similarly there is nothing etched in stone that will ensure that this team cannot win on the road.  This is not last year, and there are new pieces to the puzzle that will hopefully see Winnipeg get over the inability to win on the road.
Winnipeg Free Press:  Claude the Chemist.  You really see the detriment of no exhibition games as coach Noel is unable to tinker with his lines in the same manner that he would if he had a number of pre-season contests.
Globe and Mail:  Winnipeg's honeymoon with Jets gets a little frosty.  While I would hardly agree that the callers into local radio programs are representative of the entire population, fans were right to be upset with the game they witnessed on Sunday.  Winnipeg is not required to be in the "aww shucks, let's just be happy we have a team back" phase for the next 5 years.  Expecting a Stanley Cup might be unrealistic, but fans expect to see a decent effort put forth by the players on this team every game, especially considering the money they spend to support the Jets.
TSN:  Jets set to face Bruins on TSN Radio 1290.  Brian will be down in Boston covering the game today on TSN Radio 1290 for anyone who is unable to watch it on TV.  Looks like the lines will remain the same for the Jets today.
Winnipeg Sun:  Bouncing back key for Jets.  They cannot dwell on the loss to the Senators as the Jets have a new adversary to face today.
Winnipeg Sun:  Seeking the road to success.  Last season the Jets were simply dreadful on the road and it cost them a chance at the playoffs.  If they hope to have any chance of making the post season then they need to show the rest of the East that they can win away from the friendly confines of the MTS Centre.
Winnipeg Sun:  Coach Noel staying the course.  While the season is accelerated, it is hardly time to start panicking in Winnipeg.  While the Jets cannot afford to lose many games, especially early on, they have simply played 1 game and everyone needs to chill before they start suggesting fire sales.
TSN:  Jokinen, Stuart as alternate captains.  Somewhat surprised that Jokinen was given the 'A' so quickly into his tenure in Winnipeg although he has shown some good leadership qualities since his arrival in the city.  Stuart is the quiet type leader in the dressing room who is more likely to lead by example as opposed to challenging players verbally.

Illegal Curve:  Jets on a Deadline.  If you missed any of the stories, post-game audio from the coaches and the Jets players, video highlights from the game and the 3 stars, we have you covered.
Jets affiliate and prospect news and notes:
–  The IceCaps split another weekend series as they bounced back to win Saturday's game.  Spencer Machacek scored the lone goal of the game and Eddie Pasquale had his 3rd shutout of the season.  The IceCaps did take 3 of 4 points since the loss on Friday was in the shootout.
– 3rd round pick in 2011, Adam Lowry had his 21 game point streak (21G,16A) come to an end on Saturday night.
– 1st round pick in 2012 Jacob Trouba was shut out in the loss Michigan suffered to Lake Superior State on Saturday.
NHL news:
Minneapolis Star-Tribune:  Harding is rock-solid in 'tryout'.  After being diagnosed with multiple sclerosis, the Minnesota Wild goalie went out and showed what he was made of with a gutsy performance, earning a shutout of the visiting Dallas Stars.
Edmonton Journal:  City closer to downtown arena deal with Katz Group, councillor says.  Now that he has resolved the lockout situation, NHL commissioner Gary Bettman is turning his attention to helping get this arena mess fixed in the City of Champions.
Toronto Star:  Maple Leafs know only way to win back respect is by winning.  The Leafs have become the Rodney Dangerfield of the NHL in that they "don't get no respect!".  Of course they have done little to earn any and coach Randy Carlyle will go a long way to change the culture of this team.
NHL.com:  NHL returns to strong TV ratings.  Wow a 19.4 mark in Pittsburgh.  While I have no idea what that translates to it is clear that hockey is back as we suspected it would be. 
Illegal Curve Hockey Show Replay: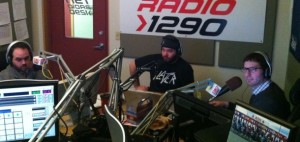 Part 1:  Show introduction.  Atlantic Division Preview.  Northeast Division Preview.  Southeast Division Preview (Excluding the Winnipeg Jets).  Eastern Conference Playoff Predictions.  Central Division Preview.  Northwest Division Preview.
Part 2:  Pacific Division Preview.  Western Conference Playoff Predictions.  Winnipeg Jets Forwards Preview.  Winnipeg Jets Defense & Goaltending Preview.  Interview with James Gordon of the Ottawa Citizen.  Winnipeg Jets Over/Under.   Interview with Eric Duhatschek of the Globe & Mail.  Cheers & Jeers.