Note:  Don't forget to participate in the Illegal Curve #ICGWG contest (by sending us an @ tweet @illegalcurve) as the Winnipeg Jets take on the Washington Capitals tonight starting at 6 pm cst.
Jets news:
Winnipeg Free Press:  Noel shuffles players as Jets take on Capitals.  Even though the season just began, being able to get some new energy into the lineup could prove helpful, especially in the 2nd game of a back-to-back.
Winnipeg Free Press:  Not just happy to be there anymore.  Hanging with the big boys means being able to go into their barn and coming out with some points.  Coach Noel pulled out all his tricks in the 3rd period in an effort to win the game.

Winnipeg Free Press:  Spotlight on Mark Scheifele.  An assessment of the 2011 first round pick and what they liked and didn't like about his game.
Winnipeg Free Press:  Jets bear down.  While it is difficult to celebrate a single point, the Jets played a solid road game yesterday in Boston.
TSN:  Second point was there for the Jets' taking.  While the Jets might have only left Massachusetts with a single point, fans can take solace in the fact that the team put forth a much better effort that they saw in Saturday's home opener.  The team had more jump and the chemistry is starting to show.  Of course Winnipeg is going to need to put forth another solid game against a Capitals team that is waiting for them in Washington for their home opener.
Winnipeg Sun:  Kyle Wellwood had big opportunity, little ice time.  Perhaps coach Noel wanted to get bigger against a big Bruins team.  Wellwood, Jokinen and Kane looked good out there in the 2nd period but coach Noel obviously had his reasons for making the switch.

Winnipeg Sun:  Jets will face their road woes and back-to-back breakdowns against Capitals.  The dreaded 2nd game of a back-t0-back.  Of the 6 back-to-back's the Jets will play this season, I believe 5 will be on the road.  Will the Jets road troubles combine with their difficulty in back-to-back's or will a new season bring new results?  The answer should begin to be known tonight around 10 pm.
Winnipeg Sun:  'Relief' after Paul Postma posts 1st point.  The Postma and Post jokes are going to be having fans groaning at the already tired word play.  Congrats to the young blueliner on his first NHL assist.  Illegal Curve will keep you posted (couldn't resist) on his success in tonight's game against the Capitals.
Winnipeg Sun:  Jets have a lot to be happy about in road opener, but … The Jets seemed to play the Bruins in close games last year and that tradition continued into the 2013 season.  Yesterday's game was a tough one to lose.  The powerplay is looking woeful already this year as they have scored just once in ten chances.
CBC:  Facing off against old demons.  I never really thought to add afternoon games to the Jets struggles but this is definitely something they will need to overcome, considering they have to play 9 more afternoon affairs this season.
Illegal Curve:  Jets on a Deadline – Bruins 2 Jets 1 in SO.  If you missed any of the stories, video highlights from the game and the 3 stars, we have you covered.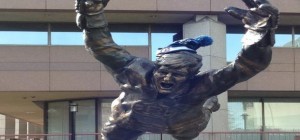 Jets affiliate & prospect news:
IceCaps official site:  IceCaps pull through with third period comeback.  The parent club was unable to get the win versus the Senators, but the farm team had no such trouble, as they came back from behind to dispose of the baby Sens.
Reporter Herald:  Colorado Eagles ready to show off Northern Colorado.  The Eagles were awarded the All-Star game for the ECHL and the format is quite different.  Their entire team takes on 21 of the stars from around the league.
NHL news:
Toronto Star:  Ducks' Teemu Selanne still scoring at 42.  And only in Winnipeg will a bar full of people cheer a player from a team that is not the Jets.  The love affair with Teemu was in full display on Saturday night as we took in the Canucks and Ducks game and every time Teemu scored, people took notice and cheered.
Sportsnet:  Twitter reacts over MacLean's doppelganger.  Originally it was thought he was escorted from his seats but turns out the ushers were taking him for an interview.  Gotta love hockey.

Chicago Sun-Times:  Blackhawks players already comparing team to 2010 Stanley Cup champs.  Which goes to show you that you should never doubt the wisdom of our own Ezra Ginsburg who before the season began predicted that the Hawks could win the Stanley Cup (18:14 minute mark) on the Illegal Curve Hockey Show on TSN Radio 1290.  Of course 2 games into the season it may be a tad premature to be anointing the Hawks cup champs just yet.
CBC:  Hockey Night in Canada kicks off in record fashion.  Nice to see that the Winnipeg and Ottawa game helped set a record for afternoon ratings.
Toronto Star:  Lockout anger hard to find as fans pack rinks.  While I don't anticipate being called Nostra-dave-ous for suggesting this all throughout the lockout, I am really puzzled why people are acting surprised at what we are seeing from fans.