Note: We are at the conclusion of the fifth week of the Team Illegal Curve Beard growing competition as Ezra and Drew help support the Heart and Stroke Foundation of Manitoba in conjunction with the Festival du Voyageur in the 31st annual beard growing contest. Every Friday we will be giving readers an update on the beard progress and here is Ezzy and Drew's growth from Week 4 to Week 5: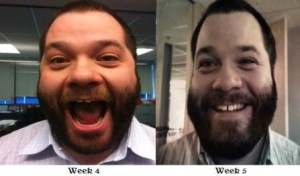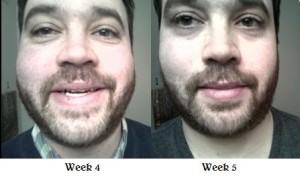 Note II: Don't forget to tune into the Illegal Curve Hockey Show 2013 Season Preview special on TSN Radio 1290 from 7 to 11 am on Saturday as the guys kick off the game day discussion on TSN.  This week's show will have an emphasis (3 hours) on the opening of the 2013 NHL regular season and the last hour will be focused on your Winnipeg Jets.  Guests:  Eric Duhatschek (Globe and Mail), James Gordon (Ottawa Citizen).
Note III:  Home Opening Weekend starts Saturday, January 19th and be sure to stay tuned to @illegalcurve as we will be bringing you all the latest from the MTS Centre as the Senators visit the Jets.  During the game you can win IC Gear by participating in our twitter 50/50 and Game Winning Goal contests.  Following the action, Dave and Ez will have post game reactions from the Winnipeg and Ottawa dressing rooms, while from the press box, Rich, Drew and Remis will bring you the Illegal Curve Hockey Post Game Podcast.
Jets news:
Update:  Jets claimed James Wright from Florida.  He is a 22 year old center who has 2 goals and 3 assists in 49 career NHL games.  He spent all of last season in the AHL with Norfolk and San Antonio.
Winnipeg Sun:  Coach Claude Noel knows how to push buttons.  While a number of NHL coaches are quite bland, with coach Noel you get a lot of spice during his pressers.  Always good for a chuckle and usually gives pretty honest answers/assessments of his team.
Winnipeg Sun:  Hot or cold, at home or on the road, Winnipeg Jets need consistency.  Fans should have a pretty good idea of how this team will look by the end of January.  While that is just 7 games, in a shortened season, you cannot afford to take any nights off if you want to play in the playoffs.
Winnipeg Free Press:  The Southeast Division by the numbers.  No longer to be called the Southleast by opponents, the Jets will be in tough this season as the teams they are competing with all improved.
Winnipeg Free Press:  MTS Centre amps up volume for games.  The sound is already loud inside the building but now it will be clearer as the Jets have improved the sound system.
Winnipeg Free Press:  Ladd's a happy pappy.  Luckily for the Jets when Ladd wasn't on the ice on Wednesday it was because his first child was being born.
Winnipeg Sun:  First season in Winnipeg will be tough to beat.  Nothing will quite match the magic of last season, but one thing the Jets will be happy to not repeat is missing the playoffs again this season.  That will be easier said than done as a number of improvements are necessary before the Jets can challenge in the East.  Today is the last day of our pre-season prediction poll and as of this morning 71% of you feel the Jets will finish anywhere from 6th to 10th this season.
Winnipeg Sun:  Kyle Wellwood living large on top line with Jokinen.   This trio will help relieve some of the pressure on the Jets other scoring line of Ladd/Little/Wheeler.  As Kane/Jokinen/Wellwood continue to develop chemistry it is going to be really interesting to see how they synch together as a line.

Winnipeg Sun:  New Jets enforcer Peluso has teammates' backs.  You wouldn't think the soft spoken Peluso is a big fighter but perhaps he is still getting used to his new environment.  What is known is that he can handle himself on the ice.  Coach Noel stated the other day that he is not interested in any 3 minute players although the way Peluso was snipping goals during practice yesterday, perhaps the Snipper moniker that coach Noel hung on him during his presser on Thursday is accurate.  Peluso is still looking to play his 1st NHL game.
Winnipeg Sun:  It all starts with Ondrej Pavelec.  As coach Noel said it will be a total team effort but at the end of the day the guy who stands between the back of the net and the puck is Ondrej Pavelec and this team is going to need him to play as well as he ever has if they want to even contemplate playoffs.
Winnipeg Sun:  Chris Thorburn happy to have tough guy company.  While Thorburn has toughness to spare it doesn't hurt to share that load with another big man.  The Jets added some size in Peluso and it now no longer solely falls on Thorburn to defend his teammates.

Winnipeg Sun:  Zach Redmond has the ability, not the experience.  He looked lights out on the first day of training camp and has been solid since.  He was voted to the AHL all-star game for the 2nd year in a row yesterday.  Of course if he remains with the parent club, he will be missing the game.
Winnipeg Sun:  Confidence high on the blue-line.  Hard to disagree with a five-time champ like Huddy but having said that, with the absence of Bogosian, I just cannot see how the confidence can be high.  This isn't to suggest that this team cannot be successful with the defence in its present incarnation, but I simply believe that the guys who are slotting in higher than normal are going to have to play lights out in order for the Jets to win.
Jets affiliate and prospect news:
UMass-Lowell official site:  River Hawks with eighth straight game.   Freshman goalie and Jets 5th round pick in the 2012 entry draft Connor Hellebuyck won his 6th straight game and has had some sick numbers during this streak.
University of Michigan:  Game Central.  Jets draft picks Jacob Trouba and Brennan Serville head to Sault Ste. Marie, Michigan to take on the Lake Superior State Lakers in a Friday/Saturday contest.
NHL news:
Globe and Mail:  Canadiens' intra-squad game draws 17,000 fans at the Bell Centre.  There is hockey passion and then there are Montreal Canadiens fans who take this concept to an entirely different level.
TSN:  TSN predicts Pens and Blues will be conference winners.  Doesn't pay to be a fan of a Canadian team in 2013 according to the TSN panel.  While the IC team will be making predictions on tomorrow's show I will put mine out now and welcome you to add your pre-season predictions here.  West Conference Champ:  Vancouver Canucks.  Eastern Conference Champ: New York Rangers.  Re-match of 1993-94 except this time Canucks take it in 6.
National Post:  NHL takes out full-page ads across Canada and U.S. to apologize for lockout.  Oh they are sorry?  Cool.  Guess fans should just forget everything because of these well thought out ads.  Similar to most of the playbook that the NHL had used during the lockout, this is in the concluding chapter on how to wrap things up neatly so they can go back to taking fans money.
CBC:  Hockey Night in Canada set to kick off exciting 60th season.  Who isn't excited to see Don and Ron return to their familiar spot on Saturday?
CBC:  Most Canadians won't change NHL viewing habits, survey suggests.  In other earth shattering news, the sky is blue.  Is anyone the least bit surprised by this 'revelation'?
Globe and Mail:  Getzlaf and Perry speculation to heat up as soon as Ducks land in Vancouver.  It is going to suck for Ducks fans to have to listen to a season of their best players constantly being asked questions about the future.  Of course Leafs fans might have reason to rejoice.