Jets news:
Winnipeg Sun:  Season opens with 14 players in last year of contract.  Potentially a lot of turnover for this team next season.  Even though its short, we should probably focus on first 5-10 games of 2013 and perhaps start to consider next season later in the year.

Winnipeg Sun:  For Jets, leadership starts with a Ladd.  The Jets have spread the leadership around but this is Ladd's team.
Winnipeg Sun:  Mark Scheifele eager for 2nd chance to crack squad.  As I said the other day the jury is out as to what the best course of action will be for Scheifele's development.  Obviously he wants to stick with the big club and will get that chance over the next 5 games.   Of course if he is playing on the 4th line, you wonder what sort of opportunity that really gives him to succeed.
Winnipeg Sun:  Jokinen, Ponikarovsky could stick.  Two nice veteran additions that can help this team during the shortened season.
Winnipeg Free Press:  Jets' opening-day roster taking shape.  With the re-assignment of Spencer Machacek and Maxime Macenauer and defenceman Derek Meech to the IceCaps the roster is looking pretty set.
Winnipeg Sun: Will Olli Jokinen be a leader or loser for Winnipeg Jets?  He has said and done all the right things since his arrival in Winnipeg.  Now we will see exactly what he brings to the table on the ice.
Winnipeg Sun: Just a matter of time before Mark Chipman joins NHL Board of Governors.  His stock certainly has risen since the lockout and you can probably expect that to continue moving forward.
Winnipeg Sun:  Big Buff could make the difference on Jets' blue-line.  The fortunes of the Jets can be put on the broad shoulders of Buff as he will be one of the most important players on the team this season.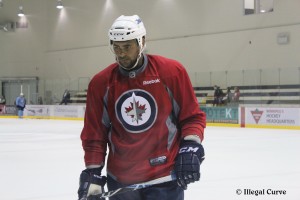 Winnipeg Sun:  Short season could be just right for Jets' Ondrej Pavelec.  Not overtaxing Pavelec could be just want the Czech netminder needs to get himself and the Jets to the next level.
Winnipeg Sun:  Jets sign centre, Kane teammate James Wright.  They briefly played together on the Vancouver Giants.
Illegal Curve:  Coach Noel presser.  Talking about James Wright.  How close is he to knowing his lineup.  Tough on players trying to make an impression, especially without exhibition games.  How much does he know about Ottawa?  How does he prep for Game 1?  Role of Perry Pearn.  What players who get reassigned learn.  Planning for 3 games in 4 nights.  How have Winnipeg's expectations changed this year?  Any clarity on Bogosian's status?   Will goalies be on a short leash?  Does the opinions of 'experts' impact him?