Jets and Affiliate news:
TSN:  Jets open second training camp to cheers from fans.  It was a rousing success today.  5000 fans came to the MTS Centre today and enjoyed seeing their Winnipeg Jets return to the city.
Illegal Curve:  Coach Noel audio.  The Jets coach was back in business today having fun with the media and discussing his team's chances this season.
Illegal Curve:  Audio, pictures and video.  We covered the day and if you want a quick peek at what those who were in attendance saw, we have you covered.
CBC:  Shortened season will leave Jets bushed.  As many of the Jets have said they are conditioned athletes and provided coach Noel manages their rest properly, should be able to handle the rigors of the shortened season.
Winnipeg Sun:  Practice open to the public today.  With competition from the NFL playoffs, it will be interesting to see how many folks head on down to the MTS Centre to take in practice.  According to the Jets site "Each fan in attendance will receive a voucher valid for one (1) complimentary 24 oz Fountain Beverage and one (1) complimentary Regular Popcorn."

Winnipeg Sun:  Money photo still just a joke to Kane.  Is TNT further provocation?  Who knows.  However, I am quite tired of this entire money phone nonsense.  It is done and best left behind so we can focus on talking about goals and wins.
Winnipeg Sun:  Kane won't let criticism derail him.  At this point his best bet is to score goals.  And lots of them.  This will make fans quickly forget any concerns they have with any off ice issues.
Winnipeg Sun:  Five burning questions.  Ken asks the 5 questions  about (Pavelec, Kane, Scheifele, new players & blueline support) that will certainly determine what type of team the Jets have and whether or not we will be discussing a team that could be playing into May.
Winnipeg Sun:  Scheifele hopes to stick.  With just 5 games to impress the Jets brass, the 2011 first round pick has stepped up his game with the Barrie Colts this season and it will be interesting to see what kind of impact he could have with Winnipeg.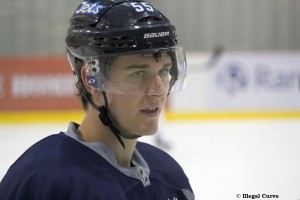 Illegal Curve:  Winnipeg Jets 2013 schedule released.  Not too different from the draft schedule that leaked the other day.  The Senators home opener on Saturday is a 2 pm start, not 1:30 and the missing games are obviously on this schedule.
The Telegram:  IceCaps lose seventh straight home game.  The baby Leafs were short handed but that didn't stop them from handing St. John's their 7th loss in a row at Mile One Centre.
The Coloradoan:  Penalties doom Colorado in loss to Stockton.  The Eagles had a bit of a let down last night as they dropped a penalty filled game.  They had taken the first 2 games against Stockton but couldn't complete the sweep.
NHL news:
TSN:  Restricted free agent Del Zotto agrees to terms with Rangers.  A solid player for NY.  Terms have not been disclosed aside from fact that it is a 2 year deal.
CBC:  Canadiens will buy out contract of Scott Gomez.  And so ends the 1st post-lockout relationship.
CBC:  Hockey Night in Canada returns with 60th season.  The Jets and Sens will be the first Canadian teams to open the 2013 NHL season.
TSN:  TSN announces national NHL on TSN broadcast schedule.  It is going to be a whirl wind but stay tuned to all the action on TSN.
Globe and Mail:  Questions remain as bombastic Burke exits Toronto stage.  Gotta love that Burke isn't afraid to go out guns blazing.
CBA news:
CBC:  NHL, players' association officially end lockout.  Well that 113 days was totally worth it.