Note II: Don't forget to tune into the Illegal Curve Hockey Show Fantasy Hockey special on TSN Radio 1290 from noon to 3 pm today as the guys discuss all the latest Winnipeg Jets, CBA and NHL news.  This week's show will have a special emphasis on fantasy hockey. Guests: Jeff Angus (Managing editor for DobberHockey), Justin Goldman (Director of Goalie Scouting for McKeen's Hockey and an NHL.com writer) and Gus Katsaros (McKeen's Hockey Pro Scouting Coordinator).
Jets and Affiliate news:
Winnipeg Free Press:  Ladd must crack whip hard.  While he will have help of some veterans around him, this team is Andrew Ladd's and the guys look to him to lead by example.
Winnipeg Free Press:  Scheifele's arrival should put all hands on deck.  Fans are eager to see what the highly touted prospect will do once he gets back to Winnipeg for his 2nd training camp with the team.

Winnipeg Free Press:  Path to the playoffs.  Ed isolates 10 areas in which the Jets must improve in order to make the post season.  Do you think it can be done?  Vote in our IC Poll.  Right now 71% of you believe the Jets finish anywhere from 6th to 10th.
Winnipeg Free Press:  Lockout lessons from 1994-95.  Hopefully the Jets 2.0 fair better than the 1.0 version who went into the lockout having finished 12th but only managed to move up to 10th in the West.
Winnipeg Sun:  Clitsome ready to accept larger role with the Jets.  The Ottawa native has worked hard during the lockout and will have an opportunity to prove himself and possibly earn a more substantial role with the team.
Winnipeg Sun:  Position by position preview of training camp.  Kirk goes through the entire lineup and shows where there might be room for a change in the lineup.
Winnipeg Sun:  Winger Machacek returns.  He caught a lot of attention towards the end of the season last year and many will be curious to see if he can continue this rise.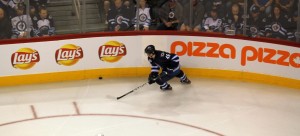 Winnipeg Sun:  Leaked schedule shows Jets on the road early, often.  Welcome to a central division team playing in the Eastern Conference.  Let the insanity begin.
The Telegram:  You had the forecast, you don't have to like the result.  If we think we had snow in Winnipeg, you should check out the weather in St. John's.
Reporter Herald:  Colorado Eagles nail down ninth straight home win.  This ECHL team just keeps on winning.
NHL news:
Washington Post:  Eric Fehr set to sign with Capitals.  We will be seeing the Winkler, Manitoba product back in Winnipeg, but it will be on the opposition as a member of the Jets south east division rival.
CBC:  Injuries already a factor for NHL stars.  Part of the concern of players playing overseas is the possibility of injury.  While you might have financial recourse, reality is more teams just want their players back healthy and ready to play for their squad.
CBA news:
TSN:  NHLPA concludes ratification vote, results expected today.  At this point it is simply a question of how much did it pass by!
Globe and Mail:  How Shane Doan's sincerity paved way to the deal.  The chronology of time on the fateful night in which the deal got done.
Globe and Mail:  It always had to be January says Ryan Miller.  The Sabres goalie is a quote machine and showed his usual flair as he met with the Buffalo media for the first time in the quasi post-lockout.