Note: We are at the conclusion of the fourth week of the Team Illegal Curve Beard growing competition as Ezra and Drew help support the Heart and Stroke Foundation of Manitoba in conjunction with the Festival du Voyageur in the 31st annual beard growing contest. Every Friday we will be giving readers an update on the beard progress and here is Ezzy and Drew's growth from Week 3 to Week 4:

Note II: Don't forget to tune into the Illegal Curve Hockey Show Fantasy Hockey special on TSN Radio 1290 from noon to 3 pm on Saturday as the guys discuss all the latest Winnipeg Jets, CBA and NHL news.  This week's show will have a special emphasis on fantasy hockey. Guests: Jeff Angus (Managing editor for DobberHockey), Justin Goldman (Director of Goalie Scouting for McKeen's Hockey and an NHL.com writer) and Gus Katsaros (McKeen's Hockey Pro Scouting Coordinator).
Jets & Affiliate news:
Winnipeg Free Press:  Jets 1st draft leaked.  Weirdest thing I noticed was the Washington back-t0-back home games in Winnipeg.
Winnipeg Free Press:  Wellwood joins teammates on ice.  Must have been fun traveling across the boarder to get in his skates with fellow NHLers.
Winnipeg Free Press:  U.S. goaltender shows Canadian pride.  Always interesting to hear the rationale behind a goalie mask.  They are quite personal for both the artist and the netminder.
Winnipeg Free Press:  Germany OK, 'Peg great.  Wheeler definitely enjoyed his time in Germany but there is no place like home.   For the Jets to enjoy post season success, need to see him continue to lift his level of play.   Hopefully the games he played in the German DEL have him ready.

Winnipeg Free Press:  Pavs time to shine.  The Jets fortunes will rise and fall on the back of their workhorse netminder.  Is Pavelec up to the challenge?  As well Ed looks at 4 other things the Jets will need to be successful this season.
Winnipeg Free Press:  Tait lockout box back.  Some noteworthy items, tidbits, quotes and notes as the NHL gets back to work from Ed.
TSN:  Sizing up the Jets in the post-lockout world.  Nice to have Dennis back giving his thoughts on the Jets and where they will be going from this point forward.  To avoid the CBA quagmire that occurred this year, both sides would be well advised to tackle some of these questions now and not wait 8 more years.
Winnipeg Sun:  Kane still a no-show on ice.  Ed Tait tweeted that Kane will be back in the city today so let's not panic.  While the title of the article suggests Kane was the lone no-show, 3 other Jets (Wellwood, Antropov and Ponikarovsky) were also not on the ice.  To be fair to Kane, assuming Kyle Wellwood was in Windsor, that is just an 1 and a half flight from the Peg'.
Winnipeg Sun:  Redmond wants to make a run at Jets blue-line.  When we spoke with Robin Short on the Illegal Curve Hockey Show a few weeks back, he said that Redmond was the likely number 1 defenceman in St. John's based on his level of play.  While watching him practice at the IcePlex yesterday you couldn't help but notice him on the ice.  Smooth skating and possesses a wicked wrist shot.  Definitely a player to watch this training camp.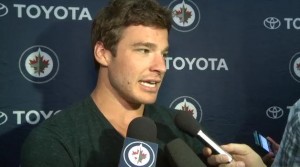 Winnipeg Sun:  More consequences coming for Pavelec says Chipman.  While that certainly sounds ominous and the crime is of a serious nature this can be handled quite well if, as I suggested yesterday, Pavelec gets involved spreading the message to young people about the problems that can result when drinking and driving.
Winnipeg Sun:  Rock experience served Burmistrov well.  He was back on the ice at the MTS Centre and told media following practice that he feels 100%.  Hopefully his time in St. John's gave him some of the tools that he will need to be a more effective player in the NHL this season.
Winnipeg Sun:  New NHL deal a good one for Jets says Chipman.  During the conference call yesterday he seemed quite certain that the structure of the CBA was a good one for this market.  You have to trust that TNSE has done their homework and knows what it will take to ensure the long term viability of the team in a market like Winnipeg.
Winnipeg Sun:  Jets defenceman Postma has Bogosian's number.  This did cause me to double-take yesterday at the MTS Centre as I initially forgot that Bogosian has switched to 44.  The reports out of St. John's are pretty positive about him and it looks like he will be given that opportunity to finally show whether he belongs in the NHL or not.

Winnipeg Sun:  Max Macenauer all smiles after call to Jets camp.  His was a name that was not really mentioned as one of the IceCaps players who might be making the trip to Winnipeg for the camp.  But like anyone invited to camp, he will be given an opportunity to impress the Jets brass when camp starts on Sunday.
Barrie Colts:  Colts 5 Steelheads 4 in SO.  Just the scoresheet from last night's Colts game where Jets 1st round pick in 2011 Mark Scheifele could possibly be playing in one of his final Jr. games depending on what the Jets decide.  He had the game tying goal in the 2nd, finished +2 and was voted 3rd star of the game.  Barrie plays again tonight in Guelph and then back to Barrie for a game Saturday night against Niagara.  Still no word as to when Scheifele will be brought to Winnipeg.
Illegal Curve:  Jets player audio from MTS Centre.  Blake Wheeler and Paul Postma were the two newest players to step up and face the Winnipeg media scrum.
NHL news:
Globe and Mail:  Teams south of the border begin offering discounts, in Canada, not so much.  Many teams in the United States are making efforts to help mend the wounds that this lockout has caused.  The response by many of the Canadian teams seems to be that they are  still in the process of crafting something for fans.  Before they are castigated for inactivity, it is best to see how they choose to respond.
Globe and Mail:  To survive as Leafs GM, Nonis has lengthy checklist to fill.  While that checklist is quite full, I would whittle it down to getting this team into the playoffs and having them contend for the Stanley Cup.  It is inconceivable that a team that can be so successful economically has not won a Stanley Cup since 1967.
Globe and Mail:  Who is left as an unsigned free agent?  There are some veteran names on that list that you would have to think could help a team that wants some leadership and Stanley Cup championship leadership in some cases.
CBA news:
Globe and Mail:  Social media emerged as powerful voice during lockout.  Giving fans a voice unlike any they have ever had in the past, it allowed them to get loud and in some instances get organized and really let their teams know how they felt about the lockout.  Many of you have entrusted @illegalcurve to provide you with all the latest throughout the lockout and now expect and will receive all the latest Winnipeg Jets news.
CBC:  NHLPA vote on CBA ratification to last until Saturday.  This is essentially window dressing as you know the process wouldn't be moving forward if the PA didn't think the members would vote it forward.  So this formality will finally conclude on Saturday, we can start training camps on Sunday and then a week following the conclusion of voting the 2013 NHL season can begin.