Jets & Affiliate news:
USA Today:  Mark Stuart has signed to play for the Florida Everblades in ECHL. He is getting back into some game action immediately as his new team plays in Cincinnati Wednesday evening.
Winnipeg Free Press:  Practicing with professionals.  While it is nice to see coach Noel helping out minor hockey in this province, I'm sure everyone would prefer to see him behind the bench.
Winnipeg Sun:  Coach Claude Noel can't wait to get going.  The Jets bench boss sounded like he relished the opportunity to speak to reporters, which is an indication that the lockout needs to end or that the Mayans were right and the World is coming to an end next week.
Winnipeg Sun:  Coach has eye on the game.   Just as the players have had an opportunity to refine their game during the lockout, the Jets coach has not sat back and enjoyed the time off from the game.  He continues to push his development as a coach while he waits for the lockout to get resolved.
Illegal Curve:  Coach Noel press conference (audio).  In case you'd like to hear the coach for yourself we have the full audio interview available.
Illegal Curve:  NHL cancels games through Dec. 30th.  This will impact Jets fans for 3 home games and a total of 6 total games cancelled.
Winnipeg Free Press:  Hainsey not near as soft off ice.  I added this article late yesterday so in case you missed it, Gary defends Hainsey's right to be the Jets rep at the CBA negotiations.  He suggests if fans want to boo Hainsey it should be because of his soft play last season and not his current union stance.  Do you agree or disagree with this position?  Can you remove the emotion of CBA negotiations with how you feel about Hainsey on this team.  Feel free to sound off in our comments section below.
Reporter Herald:  Colorado's Cody Sol gets a chance at AHL level.  The bruising Sol who led the Eagles in PIM (93 in 21 games) is getting just his 2nd chance in the AHL with yesterday's call-up from Colorado of the ECHL.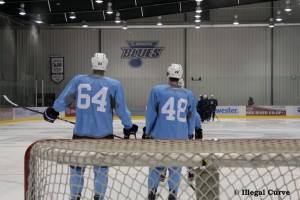 The Coloradoan:  Resilient Daavettila refused to have hockey dreams dashed.  It makes you appreciate what players do to achieve their goals.  While everyone recognizes the NHL as the pivotal achievement for a player, many are able to scratch out nice lives for themselves in leagues such as the ECHL.
CBA news:
CBC:  30 Thoughts – NHL could turn to NBA  lockout fixer.  Some interesting thoughts from Friedman including thought #1 which is Jets related.
ESPN:  Talks set for Wednesday.  When will the talking ever end?  And where is the secret location?  Wonder if our good friend Jetsxoxo has managed to broker this meeting.
Globe and Mail:  Sides have different views of progress.  Never was this more clear than last Thursday with Donald Fehr proclaiming sides were close only to have Gary Bettman say the exact opposite was the case.  Perhaps these two will get on the same page and start speaking the same language soon so they can go about salvaging the season.
Vancouver Sun:  Manny Malhotra has had it with labour talks.  It must take a significant amount of fortitude to be able to endure the mind numbing meetings engaging in CBA negotiations.
Sportsnet:  NHL fans plot practical new boycott.  While these boycotts may get the attention of the media, I think the principals in this story are completely ignoring the story.  In addition I just don't think it will resonate with fans sufficiently.  We have yet to see one boycott really take off in any meaningful, league wide manner.
NHL news:
Edmonton Journal:  Katz group asks to make presentation before City Council.  Is this Katz and company coming hat in hand or are they just trying to inject themselves into a conversation that has been largely ignored since council voted to end negotiations back in October?
World Junior news:
CBC:  Nugent-Hopkins, Canadian juniors arrive in Calgary for selection.  There is still so much uncertainty as to the final composition of Team Canada but everyone was saying all the right things as they arrived in Calgary for camp.
Calgary Herald:  Returning Canadian world junior players still remember sting of defeat in 2012.  Included on this list is the Jets Mark Scheifele who you can tell wants to show a marked improvement over his play in 2011.
Montreal Gazette:  Subban could be top goalie.  The younger brother of Canadiens defenceman P.K.  Subban, Malcolm looks to make a name for himself on the international stage for Team Canada.