Jets & Affiliate news:
Winnipeg Jets:  Mick E Moose and the Jets community team were at Valley Gardens community centre yesterday morning for a breakfast with Santa!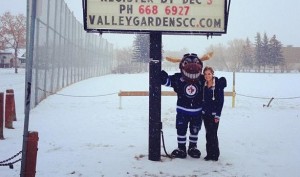 The Telegram:  IceCaps swept by Falcons; dip below .500.  Unlike their ECHL counterparts, the IceCaps were swept in their weekend series, for the first time on home ice.
The Coloradoan:  Colorado withstands late charge to win second-straight road game.  Don't look now but these guys are becoming road warriors all of a sudden with their 2nd win in as many nights in California.  Eagles return home for a 2 game series against Las Vegas.
CBA news:
CBC:  NHLPA's Donald Fehr says league, union were close to a deal.  It appears both sides continue to speak a different language than the other.  One side says they were close and the other says that a wide gulf existed.  We will see over the course of the next few days which proves most accurate.
Globe and Mail:  How Canadians are reclaiming their lives (and Saturday nights) thanks to the lockout.  While many people I have spoken with are enjoying the free time in their calendars you can sense that almost all are eager to have the continuity of hockey in winter return to their lives.
TSN:  Fehr anxious for return to the bargaining table.  Another tactic to make it appear that the NHL is not serious about bargaining.
Sportsnet:  Franchises in trouble.  Should the prospect of failing franchises be enough to convince players to 'do their part' to get a deal done and to help the owners who pay their salaries?
World Junior news:
Edmonton Journal:  RNH chooses Canada.  Not terribly surprising that fans in Canada wanted to see RNH representing his country rather than playing in the AHL.
Toronto Star:  Top 10 players to watch.  Three of the ten guys on the list are from Team Canada, although the Jets Mark Scheifele did not crack the Top 10 list.
Sportsnet:  Lockout poses big problem for Team Canada.  The uncertainty with the lockout can pose significant ramifications to the composition of this team.  Guys like  Ryan Nugent-Hopkins, Jonathan Huberdeau, Ryan Strome, Boone Jenner, Mark Scheifele, Dougie Hamilton could end up in NHL camps if lockout gets resolved.
Hockey news:
Globe and Mail:   US blanks Canada to win World Sledge Hockey Challenge gold.  Canadians never like to lose hockey tournaments, especially not to our southern neighbors, but it sounds like the Americans had a well deserved victory yesterday.