Note:  Don't forget that tonight Jets coach Claude Noel will be at the St. Vital Jets Gear store location from 6:00pm to 8:00pm where he'll be available to personally sign your copy of "The First Season".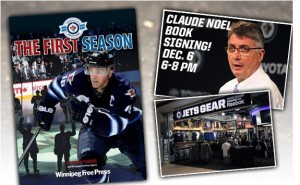 Note II:  Don't forget to tune into the Illegal Curve Hockey Show on TSN Radio 1290 from noon to 3 pm tomorrow.  The guys will be broadcasting live from the St. Vital Shopping Centre.
Jets & Affiliate news:
Winnipeg Free Press:  Time for players to cast ballots.  As per usual the vocal minority are usually the leaders of the pack while apathy reins in the majority.  Time for that to change!  While it is nice to have good intentions to see struggling teams survive, fans in Winnipeg need to worry about this market and Gary indicates that this deal is best for the long term viability of the Jets.
Winnipeg Free Press:  Players not surprised.  The comment from Adrian Dater seems to sum up the process so far:  ""We were ready to play again. But Don came in (Wednesday) and told us we could get more and to hold out."  As a result it appears some of the guys who have stuck around Winnipeg are starting to initiate their plan B's.
Winnipeg Free Press:  Frustrated puck fans fuming.  It seems especially cruel for fans in Winnipeg who waited so long to have the Jets return and only got a 1 year taste before this lockout.
Winnipeg Free Press:  Chipman expresses disappointment at NHL talks breakdown.  The response from the 4 owners involved (Pittsburgh, Tampa Bay, Toronto and Winnipeg) were the most substantial we have heard from any of the NHL owners in the last 83 days and they were universally disappointed at the lack of success they had this week. 
Illegal Curve:  Statement from Winnipeg Jets Governor Mark Chipman.  We have the entire statement from Jets owner Mark Chipman and a link to the other 3 owners statements as well.
Winnipeg Sun:  Hainsey perplexed by NHL response.  It is rather interesting to hear Hainsey say they were told that bringing Fehr back into negotiations might be a "deal breaker" considering the players are paying him to run their union.  If true, it doesn't reflect well on the NHL as it is hardly fair to put hockey players against ownership and expect it to be a fair dialogue.

Ottawa Citizen:  Lockout standoff continues to amaze.  Even the players were buying into the optimism says Ottawa native and Jets defenceman Grant Clitsome.
Wall Street Journal: Thomson Reuters Tie-Up Pressures Canadian Scion.  If you missed this yesterday, the WSJ has an interesting read about one of the owners of the Jets. The site has a paywall but if you click Media & Marketing, you can read the article.
The Telegram:  IceCaps are a hurting bunch.  The joys of a long season is you can go from a plethora of bodies to short men in an instant.
CBA news:
Sportsnet:  30 minutes of madness.  If the consequence were not so dire last night's theatre would have been worth the price of admission.
Globe and Mail:  Are players ready to roll over?  Do you think we will see an uprising from the rank and file members of the union?
CBC:  Implosion in NHL talks leaves players with few options.  As always Elliotte Friedman 'cuts through the baloney" and is today's must ready column of the day.
TSN:  The bizarre week of CBA talks.  It has been a roller coaster of emotions for fans, players and owners alike who have gone from extreme highs back to lows and then back again.  Unfortunately stay strapped in because the next couple of weeks will probably see more of the same.
Globe and Mail:  Latest breakdown reminiscent of 2004.  What is pathetic is that this has become about 'declaring victory' and not wanting to show weakness, in the form of compromise.  Fighting for a fair deal is the right of any worker or employer but both sides need a reality check.  The damage done to this game, if there is a 2nd lockout in 8 years, would be unmeasurable (actually having said that, both sides will be able to measure the cost in lost revenue/salary).
CBC:  Don Cherry says he has never seen Bettman so livid.  I also wasn't left with the impression that the Commissioner of the NHL was putting on a show last night and if he was, he deserves an Oscar for that performance.
ESPN:  Labor talks bring high drama.  It is almost incomprehensible that at this point in the negotiations the shenanigans that are being employed by both sides are still regularly occurring.  Looks like the best bet for hockey in 2012-13 will be a 48-game season which could begin around January 20th.