Note: During November each year, Movember is responsible for the sprouting of moustaches on thousands of men's faces, in Canada and around the world. With their "Mo's", these men raise vital funds and awareness for men's health, specifically prostate cancer and male mental health initiatives. If you'd like to help the Illegal Curve team as we raise money and awareness you are welcome to do so; Dave, Ezra & Drew, #5 Mark Stuart and we are happy to announce our newest addition #44 Zach Bogosian.
Jets & Affiliate news:
Winnipeg Sun:  IceCaps have trouble finding the net.  A lack of consistency has this club sitting at 6 wins and 7 losses just two months into the AHL season.
Winnipeg Sun:  Burmistrov fitting in with IceCaps.  The phrase 'better late than never' is appropriate but one can only be left to imagine what his development might have been like had Atlanta allowed him to mature in the minors.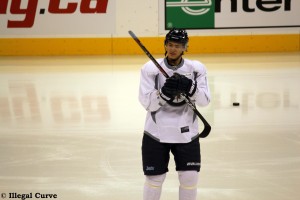 Reporter Herald:  Colorado athletic trainer Chris Porowski knows his wraps.  Always interesting to read about the guys behind the scenes who often do so much work but are often unheralded.
The Province:  Bronco's captain sees big opportunity.  Lowry looked solid when I caught part of the game in the 3rd period of the Subway Series last night, although he wasn't a huge standout.  Team WHL won the game in a shootout.
CBA news:
CBC:  NHL lockout taking toll on Canadian retailers.   Further examples of the true victims in the lockout mess.
ESPN:  The damage this time will be permanent.  LeBrun checks in with his thoughts on where things sit.
Winnipeg Free Press:  NHLers raised to fight back.  You lose the right to compare yourself to the 'average man' when you are getting paid millions of dollars to play sports.  This does not in any way suggest that being a professional athlete is not a job because it is and it is extremely demanding, but you cannot suggest that "…those same hockey fans will bitch and moan about their boss and complain about how much money the company is making and taking advantage of them," said Kennedy" as if a guy making $50,000 working 9-5 is somehow akin to an NHL player.
Montreal Gazette:  Both sides are wrong in NHL labour dispute.  Fans are sick of picking sides.  At this point they just want resolution.  This article provides some interesting analysis.
Globe and Mail:  Cherry still preaches, but has no pulpit.  Many fans across Canada cannot wait to see the Coach back on CBC in his familiar Saturday Night 1st intermission time slot.
Globe and Mail:  NHL and players' association not even talking by phone as lockout drags on.  Last week saw a rise in the  optimism of fans as both sides spoke and met repeatedly.  Now they have resumed their 'normal' levels of communication.  On a positive note, last night it was reported that if there isn't a new CBA in place in the next 7 days, the NHL may cancel games through to December 15th.  Wonderful.
Ottawa Sun:  Senators' Chris Phillips rips Mark Recchi over CBA comments.  Ironic how a player who has a pedigree like Recchi's is now apparently no longer entitled to express an opinion and has his motives questioned simply because they run contrary to the party line.
ESPN:  Renowned mediator wants crack at CBA talks.  At this point why not?  Perhaps both sides will have to compromise.  Heaven forbid.
Arizona Sports:  Have you had your fill yet, Glendale?  While the numbers who attend Jobing.com arena might not sound overwhelming, they at least are sufficient to bring life to the businesses that surround the arena.
NHL news:
Edmonton Journal:  Nail Yakupov blasted by NHL insider: "Is that all there is?".  Seems like a small sample size from which to make such a sweeping statement.
Calgary Herald:  Sutter back behind the bench as interim head coach in Red Deer.  A Sutter coaching in Alberta.  At least something is right in the hockey world these days.
CFL news:
Illegal Procedure: CFL Playoff Papers. While the Bombers season might be done there is still plenty of CFL news as the Finals in both the East and West have been set.  Over on the West side, players twitter accounts are being silenced.  The East has 'new' fans thronging to the Argos banner.