Note:  Tune into the Illegal Curve Hockey Show today from noon to 3 pm as the guys have 3 hours of hockey talk on TSN Radio 1290. Guests include: Kevin Allen (Writer, USA Today).  Michael Traikos (Writer, National Post).  Sean MacDonald (Sessional Instructor, Asper School of Business at the University of Manitoba).
Jets news:
Winnipeg Free Press:  Twitter: The extra player.  If you are on twitter (and if you are, you should be following us @illegalcurve) it is information overload on the lockout, with both fans and players using the medium to get their message out.
Winnipeg Free Press:  Grounded.  There are not many players remaining for the Jets who are practicing at the MTS IcePlex.
The Telegram:  IceCaps, other AHL teams prep for season loaded with NHL talent.  The AHL teams are stacked with NHL level talent and fans in AHL cities are finding themselves with an excess of riches at AHL prices.
The Toronto Observer:  Colts' Scheifele unfazed by lockout, focussed on development.  Always good to get a progress report on the Jets 2011 first round draft pick.
Winnipeg Sun:  Jets prospect Melchiori had big summer.  Another solid prospect who looks like he got a lot stronger over the summer.
Winnipeg Sun:  Cheveldayoff keeping busy during NHL lockout.  GMs basically become scouts at this time.
Ottawa Sun:  NHLer Clitsome pays surprise visit to Jr. 67's.  Looks like the defenceman was finding himself having to defend the players against some young fans.
Winnipeg Sun:  Top-five Jets prospects.  Ken breaks down the top prospects you might be seeing in a Jets jersey soon.  Of course that is once the NHL season resumes.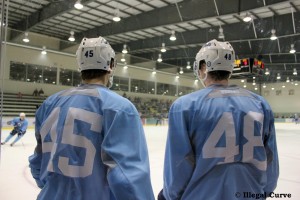 CBA news:
ESPN:  Back to the drawing board.  So now both sides are saying 'let the other side put forth a new proposal'.  Terrific.
Globe and Mail:  Is divvying up a $3.35-billion hockey pie really that hard?  Roy gives his usual informative assessment of the current problems.
NHL news:
St. Louis Post-Dispatch:  Hefty contract led to Davidson's departure as Blues turn the corner.  While Davidson helped to turn the franchise around the new ownership felt the need to bring the financial house in order.
Toronto Star:  Will plans to build a $325-million arena boost or burden Markham?  An eye opening read about the process of getting the arena built in Markham.  Comprehensive but well worth the read.
CFL news:
Illegal Procedure: Winnipeg Blue Bombers Papers. If you are a fan of CFL football, check out our other site, which gives you all the latest Bombers news.