Note:  Tune into the Illegal Curve Hockey Show from noon to 3 pm tomorrow on TSN Radio 1290.  Guests include Joshua Cooper (The Tennessean), Bruce Dowbiggin (Globe and Mail) and Bobby Holik (former NHL player).
Jets news:
Winnipeg Free Press:  Go oboes Go!  Jets tickets out, symphony ok.  The tickets should go into a pool for underprivileged kids, to give them an opportunity to see NHL hockey.  What are your thoughts on ticket-gate?
Affiliate news – St. John's IceCaps:
The Telegram:  Trio gets high marks, but looks to contribute more.  The Caps are looking to close out the series tonight on The Rock, and they will need these 3 guys to be scoring, in addition to their strong defensive play, in order to finish off the Penguins.  Spencer Machacek needs to regain that scoring touch he showed when he was with the Jets (9 points in 13 games).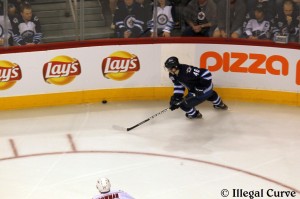 Citizens Voice:  Penguins insider.  Some news and notes from the Penguins off day in St. John's yesterday.
Stanley Cup news:
Washington Post:  Heart and Soul of the Capitals.  He is the type of gritty players NHL coaches love to have in a long post season series.

New York Daily News: Rangers offense needs to step up for Lundqvist.  The guy has pretty much done everything asked of him, and if it isn't too much of an imposition, he would like to see his teammates show up on Saturday night for Game 7.
L.A. Times:  Kings foursome knows what it takes to win Stanley Cup.  Even the guys who have yet to win a championship will bring a lot to the table for this upstart Kings team.
NHL.com:  NHL announces dates, start times for Games 1-2 of Conference Finals.  Cannot believe the 3rd round of the Stanley Cup is almost upon us.
Other NHL news:
St. Louis Post-Dispatch:  Stillman ready to lead Blues into future.  We spoke with Jeremey Rutherford back in April about the new ownership group (listen here) and it sounds like fans in St. Louis are going to have a lot to cheer for.
Orange County Register:  Ducks re-sign Boudreau to two-year extension.  The guy who perhaps had the shortest unemployed streak in NHL coaching history (under 48 hrs) is getting another chance to make his mark.  Biggest off season question for Anaheim is will Teemu be returning for another season?
Philadelphia Daily Inquirer:  Updates on Pronger, Jagr, Bryz et al.  Looks like Jagr might test free agency.  Wonder if the Pens will come calling?
Follow Friday:
Dave – @icdave – Co-editor of Illegalcurve.com and occasional contributor to IC Hockey Show on TSN Radio
Rich: @icrichy – Analyst of IC Hockey Show on TSN Radio. Co-editor at Illegalcurve.com
Ezra: @icezzyg – Analyst of IC Hockey Show on TSN Radio. Contributor at Illegalcurve.com
Drew: @icdrew – Host of IC Hockey Show on TSN Radio. Contributor at Illegalcurve.com
Remis: @mremis – Behind the scenes of the IC Hockey Show on TSN Radio. Contributor at Illegalcurve.com.
Kyle: @ickylek – Contributor at Illegalcurve.com