Jets news:
Winnipeg Free Press:  Payments end for TSN Jets.  Some people had expressed concern that they would need to initiate a hold on the specialty channel, but that fear should be alleviated by this article.
Winnipeg Free Press:  The First season (video).  Multimedia editor Melissa Tait revisits the inaugural season, from the announcement of the purchase of the Atlanta Thrashers to the final buzzer of the last game of the season.
Winnipeg Free Press:  Jets want closer look at draft crop.  Said to one of the deeper drafts it will be interesting to see if GM Cheveldayoff takes a piece for the future or one that can possibly make an immediate impact on this team.
Winnipeg Free Press:  Slater's season to continue in Europe.  After missing the latter half of the 2010/11 season with a concussion, Jim Slater is back to feeling good again and would like his hockey to continue into April.  His skill in the faceoff circle will be very useful for Team USA.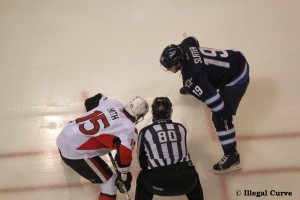 Winnipeg Free Press:  Investing in street culture.  The development going on downtown is absolutely necessary as many decrepit buildings are bulldozed or being refurbished in the name of progress.  The recent demolition of the old A & B Sound building across the street and these new CentreVenture plans are just a couple of examples of the positive impact the return of the Jets is having on our downtown.
Winnipeg Sun:  Slater man of the worlds.  Despite his upcoming free agency, Slater isn't content to return home for the summer.  Instead he will head off to Finland/Sweden to play some hockey for the red, white and blue of his country.  In our latest IC Poll, Slater is the overwhelming selection as the key UFA to be re-signed.
Barrie Examiner:  Opponents on the Mark.  For those worried about the Jets first pick in the 2011 Entry Draft, it sure sounds like Dale Hawerchuk has him firing on all cylinders.  Really in-depth analysis as to how the 7th overall pick is doing in this year's OHL playoffs.
Canada.com:  Old teammates Hawerchuk, MacLean now hot coaching commodities.  Any fans of the Jets 1.0 will be happy to read this article as both former members of the original Winnipeg Jets are having tremendous success in their new roles as bench boss in the OHL and NHL.
CBC:  Elliotte Friedman's 30 Thoughts.  Thoughts 19 through 22 concern the Jets.
Affiliate news – St. John's IceCaps:
The Telegram:  Jaffray's done for the season.  The bad news first is that the team captain will be done for the season with a neck injury.  On the good news front, the Caps are getting a load of players back as they get set for the final weekend of the regular season.