Jets news:
TSN:  Many Jets enjoyed banner seasons this year.  Dennis gives you a rundown of the team.
Winnipeg Free Press:  Winnipeg's professional sports scene has never been better.  The most important part about losing the Jets 1.0 was that Manitobans found out that if you took something for granted, it could be gone in a flash.  As a result they have found a way to support sporting events that come to this province, whether that was the Pan Am Games, World Junior hockey or even the other professional sports teams.  The fear that the Jets would suck up all the disposable income in this province has been proven untrue, at least in the short term.
Winnipeg Free Press:  10 future Jets?  Might we be seeing the IceCaps MVP Paul Postma full time next season in a Jets uniform?    Ed Tait gives you an update on some of the Jets prospects/draft picks and their 2011-12 season.  Speaking of Jets prospects, Mark Scheiefle and Ivan Telegin were in action last night, as their Barrie Colts won again to take a commanding 3-1 series lead over the Ottawa 67's.  Telegin had 2 assists and Scheifele won a critical draw and cleared the puck to secure the win.  (You can watch the video highlights here).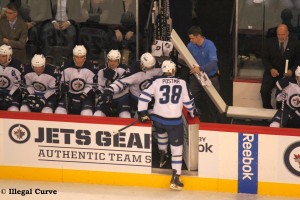 Winnipeg Free Press:  No cure for this hangover.  The commercial is appropriate given that many in Manitoba cannot believe that the inaugural season for the Jets 2.0 has come to an end.  Luckily for those fans needing a fix, playoff hockey has begun and there have already been some excellent games, including 3 OT's last night.  In addition, for those who desire Jets related news, the 2012 NHL Entry Draft in Pittsburgh will take place end of June and free agency begins July 1st so there will be plenty of Jets news to talk about this summer.
Winnipeg Free Press:  The First season (video).  Multimedia editor Melissa Tait revisits the inaugural season, from the announcement of the purchase of the Atlanta Thrashers to the final buzzer of the last game of the season.
Winnipeg Sun:  TSN Jets off your cable bill.  Take note that you will not need to call to remove the Jets specialty channel from your bill.
Affiliate news – St. John's IceCaps:
Note:  Recalled defenceman Jake Marto from the ECHL Colorado Eagles.  They have also signed forward Joey Sides (who was also playing with the Eagles) to a professional tryout contract.
The Telegram:  When it comes to playing defence, Kulda can.  A consistent player for coach McCambridge in St. John's he leads the team in plus/minus and has done exactly what has been asked of him all season long.