Note: It was quite the way to conclude a "home stand" for the Jets as they left Regina with two points after defeating the Flames 2-1 in OT at last night's Heritage Classic.  The team immediately left for California and were scheduled to practice today (but have subsequently changed it to an off day) as they get set for a trio of games on the road starting with the Ducks on Tuesday.  The Jets will be back on the ice tomorrow so stay tuned for a Practice Report.  Update:  While the Jets are off there was some news as Adam Lowry will be chatting with NHL Player Safety for his hit on Oliver Kylington at the end of the 2nd period of last night's game.
Note II:  Jets GM Kevin Cheveldayoff was chatting with the Hockey Central Panel in advance of the Heritage Classic.  Topics he was asked about included Blake Wheeler's funk, whether there is a time limit on a decision for Dustin Byfuglien and Paul Maurice being in the final year of his deal.  For more click here.
Note III:  The Moose have hit a big skid as they lost yet again on Saturday night dropping a 4-0 decision to the Wolves in Chicago which concluded a two-game road trip.  They will return home having lost six straight games and sit 1-7-0 on the season.  They will be down a player at some point as the Jets will recall a forward to replace Mason Appleton who was hurt on Friday ahead of practice at the Heritage Classic.  My expectation is it will be Joona Luoto or Andrei Chibisov.
Note IV:  If you'd like a chance to meet the Finnish Flash he'll be in the city today signing copies of his new book 'My Life' at Chapters in Winnipeg.  
Jets news:
The Athletic Winnipeg:  Three years later, Bryan Little finally has his Heritage Classic moment.  (Paywall).  Bryan Little has certainly been the target of some slings and arrows from a portion of the fan base that doesn't see him as a viable number two centre.  Ken writes about the veteran forward getting a chance not just to play in his first outdoor game but to deliver on the big stage.
The Athletic Winnipeg:  The Heritage Classic once again celebrates the nostalgia, purity and beauty of hockey.  (Paywall).  If you grew up in a northern environment you likely can hearken back to your days as a kid lacing up the skates for a good game of shinny with family and friends.  Murat looks at how the Heritage Classic was the game in its purest form.
Sportsnet:  Heritage Classic perfectly recaptures pond hockey vibes.  Another good recap of the game.
Winnipeg Sun: Little lifts Jets past Flames in overtime at Heritage Classic. Scott recaps the action from his spot inside Mosaic Stadium.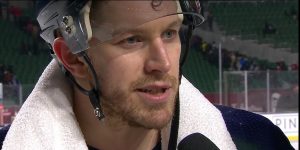 Calgary Sun: Jets snuff out Flames at Mosaic Stadium. Read Kristen's recap of the action as she provides the perspective of a writer who covers Calgary.
Regina Leader-Post:  Mother Nature had a lot to say during the Heritage Classic on Saturday but it was the Winnipeg Jets who got the last word.  Greg provides a local view on last night's game.
Winnipeg Free Press: Little the hero as Jets rally to win Heritage Classic. (Paywall). Mike provides his insight into the game.
Winnipeg Free Press:  Classic was a homecoming of sorts for Lowry.  (Paywall).  Many WHL players spent time plying their trade as young men in Saskatchewan.  
Sportsnet:  How Jets' Patrik Laine is faring since promotion to top line.  Based on the lines for tonight's game the experiment is temporarily over but Andrew looks back at how things worked with the Finnish sniper on the top line.
Jets video:
Sportsnet:  Paul Maurice on After Hours.  Scott Oake and Kelly Hrudey catch up with Paul Maurice following the Winnipeg Jets victory over the Calgary Flames in overtime of the Heritage Classic, recounting some hockey memories on his way to 700 wins as an NHL head coach.
TSN: Poolman's smart play, Little's heroics help Jets close Heritage Classic win over Flames. Tucker Poolman's heads-up play in the dying minutes of the Heritage Classic may have saved the game for the Jets before Bryan Little settled the win in overtime. Craig Button breaks down the smart play by the defenceman and the game-winner by Little.
TSN: Morrissey, Little come through for Jets in Heritage Classic. It was a Heritage Classic that had a little bit of everything, overtime, some controversy and a comeback win. Jermain Franklin and Darren Dreger recap the game played in Regina, discuss the redemption that Bryan Little had and touch on the questionable play that led to the Flames' opening goal.
Illegal Curve Hockey Show Replay:
Topics: Jets/Kings recap, Mason Appleton will be out at least a month after breaking a bone in his foot before practice on Friday, Blake Wheeler's struggles, The Jets goal scoring struggles, Jets claim Luca Sbisa off waivers from the Anaheim Ducks, The Jets Power Play struggles
Guests: Paul Edmonds (Winnipeg Jets play-by-play broadcaster on TSN 1290 Radio) at 26:56 and Joe Pascucci (Past Sports Director of CKND/Global TV Winnipeg) at 51:10.
To listen to part 1 click here.
Topics: Continuing to preview the Jets vs. Flames Heritage Classic game, Have the Nashville Predators been overlooked, Colorado Avalanche winger Mikko Rantanen out week-to-week with a lower body injury, Cheers/Jeers
Guests: George Johnson (CalgaryFlames.com) at 23:09 and Phil Andrews (Regina Pats play-by-play broadcaster) at 46:52.
To listen to part 2 click here.