Note: The Jets were on the ice on Monday in Pittsburgh and the news was positive surrounding defenceman Josh Morrissey who was with his teammates in a regular uniform.  Dmitry Kulikov has been granted a personal leave from the team to deal with a private (but apparently positive) matter and coach Maurice indicated the team will recall Sami Niku.  The team also announced that they had recalled Nelson Nogier from the Moose and placed Bryan Little on IR as a result to ensure roster compliance.  Be sure to check back for the pre-game report for all the latest ahead of puck drop. Game time is 6 pm CT.
Note II:  Coach Maurice has indicated that Josh Morrissey is being held out for precautionary reasons tonight against the Penguins.
Note III:  After a day off on Monday the Moose will hit the ice for practice as they get set to practice this week in advance of their home opener against the Marlies on Friday and Saturday.
Jets news:
Sportsnet:  31 Thoughts.  There's a Jacob Trouba note in the preamble about his knowledge of the Jets system allowed him to set up the game tying goal.  Numbers 18 (Byfuglien) and 19 (Hellebuyck).
Sportsnet:  Why lack of physicality from blue line is Winnipeg Jets' biggest concern.  Sean writes about the changes in the Jets blueline over the years and how the evolution has impacted the team.
Winnipeg Sun: Hellebuyck has growing chip on his shoulder after rocky first start for Jets.  Chip on shoulder is the Jets theme for 2019-20 so he will fit right in.
Winnipeg Sun: Pens a stiff test for Jets patchwork defence.  Well the good news for Winnipeg is that Pittsburgh will be without some of their dangerous weapons as well tonight.
Winnipeg Free Press:  Jets' blue line a going concern.  (Paywall).  These guys are gonna have to be wrapped in bubble wrap when they aren't on the ice (and maybe even when they are on it).
The Athletic Winnipeg:  Sorting through possible solutions to improve the Jets' suddenly unrecognizable defence.  (Paywall).  Murat looks at some possible answers to the questions folks have about the Jets D.
The Athletic Winnipeg:  Paul Maurice sends a message to his No. 1 goalie by giving Laurent Brossoit the crease against the Islanders.  (Paywall).  Seemed early on in the season to be message sending but pretty clear as to the message from the Jets bench boss.
Jets video:
TSN: Why did Maurice elect to start Brossoit in back-to-back games? Laurent Brossoit was given back-to-back starts for the Jets on the weekend with Paul Maurice opting to keep No. 1 netminder Connor Hellebuyck on the bench. That's Hockey discusses the reasoning behind this decision.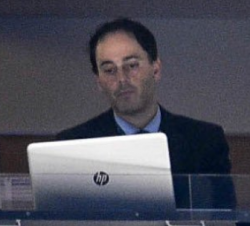 Latest posts by David Minuk (see all)