Note:  With Jets training camp rapidly approaching the team released their schedule and roster today.  Everything starts on Friday.
Jets news:
Winnipeg Sun:  Copp felt arbitration process was like 'going to war' with team.  It is no wonder the vast majority of those who go through the process eventually end up somewhere else since the process is so taxing.  For now the Jets will have the very able bodied Michigan product in the lineup and focused on the season ahead.  
Winnipeg Sun:  Stronger Niku and healthy Poolman looking to earn full-time work with Jets.  The two players the Jets will be counting on to step up in a big way this season as they get a chance to seize the opportunity that is in front of them.
TSN:  Wheeler admits chasing Stanley Cup took a toll last season.  Sara had a chance to catch up with the Jets captain to gather his thoughts on the past season.
TSN:  Why every day matters for Jets with Laine and Connor.  Frank writes about the Jets having a bit more urgency than other teams to get their RFAs signed.
The Athletic Winnipeg:  Amid strong hints of home, Patrik Laine looks headed to short-term solution with Jets.  (Paywall).  When reading a hockey article I didn't expect to learn about geography but Murat with some insight into an area in Minnesota I didn't know existed.  If geography isn't your thing he does talk quite a bit about Patrik Laine in this piece.
The Athletic Winnipeg:  Jets season preview.  Not exactly a glowing season preview by Dom Luszczyszyn of the Jets for the 2019-20 season.  He doesn't expect much but as I've been writing or saying on air I suspect this type of article will be what the Jets use in the "us against the world" mantra I suspect we will see them adopt this season.
Winnipeg Free Press:  Jets' expectations not flying so high.  (Paywall).  Mike and J take a look at a number of topics including: 1) When do Laine and Connor put pen to paper? 2) Not so great expectations. 3) How do they rebuild the blue line? 4) Is the coach on the hot seat? 5) Are the feathers still ruffled? 6) Who is the second line centre? 7) Can the masked men save the day? 8) Are they ready for full-time work? 9) Special teams, the stuff of dreams or nightmares? 10) Mo Money, Mo Problems.
Winnipeg Sun: Vesalainen ineffective for Winnipeg Jets rookies, Heinola shone.  Paul provides his assessment of the last two Finns the Jets took in the 1st round based on the way they played at the Rookie Showcase in Belleville, Ontario. It's a big year coming up for Vesalainen.
Sportsnet:  Jets 'not worried yet' about Laine, Connor deals but season closing in.  It's not time to hit any panic buttons but with news around the league that some of the smaller fish RFAs are getting deals done how much longer before one of the big fish get snagged?  
Sportsnet:  31 Thoughts.  Plenty of RFA talk in the preamble.  Additionally there were Jets points in 3 (Laine), 17 (Ehlers) and 18 (Jets being disregarded).  
The Athletic Winnipeg:  How Nik Ehlers reviewed his game, received trade rumours and got ready for this Jets season.  (Paywall).  Ken Wiebe caught up with the Dynamic Dane to discuss his (Ehlers not Ken's) summer and how he (again Ehlers not Ken) used the time to focus on improving his game.
Jets video:
TSN:  Wheeler opens up about his challenges as Jets captain both on and off the ice.  Blake Wheeler sat down with Sara Orlesky and opened up about his challenges as Jets captain both on and off the ice, explain why he has to approach young players differently as a leader in today's NHL, and reveal why the high expectations and the pursuit of winning a Stanley Cup last season caused him to lose touch with his family life.
Jets audio:
TSN 1290 Winnipeg:  Jets defenceman Dmitry Kulikov on The Afternoon Ride.  Dmitry Kulikov joined Andrew Paterson and Rick Ralph on the Afternoon Ride. They discussed his off-season, the changes to the blue line, his role for the upcoming season, playing in the final year of his contract and his health.
Ice news:
Winnipeg Free Press:  Two towering tenders vying for spots on Ice roster.  (Paywall).  Mike Sawatzky takes a look at the battle for the net going on with the Ice.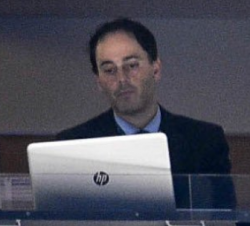 Latest posts by David Minuk (see all)