Note:  The Jets prospects got it handed to them last night as they fell 8-1 against the Senators prospects in Belleville to kick off the Rookie Showcase.  Coach Vincent will likely be skating these guys hard today as they look to rebound on Sunday when they take on the Habs prospects.
Note II:  Last night the Winnipeg Ice played their first pre-season game as a franchise and fell 5-0 to their provincial rival in Brandon.  They won't have to wait long for revenge as they play again against the Wheat Kings tonight in Portage.  Puck drop is at 7:30 pm.
Note III:  The Illegal Curve Hockey Show with the full contingent of Drew, Ez and myself kick off three hours of Winnipeg Jets and NHL hockey talk this morning on TSN 1290 Winnipeg starting at 9 am.
Jets news:
The Athletic Winnipeg: Opportunity cost and a way for Winnipeg to exploit the ongoing Kyle Connor and Patrik Laine negotiations. (Paywall). On the heels of the Hurricanes signing Jake Gardiner Murat offers up his thoughts on how the Jets can make moves similar to Carolina in order to come out ahead.
SooToday:  Jets first-round pick Heinola looking to make an impact at rookie showcase.  He certainly looked confident with the puck when he got touches last night.  
Winnipeg Sun:  Jets rookies throttled in tournament opener.  Paul was in Belleville and files this report on the Jets prospects who got tuned by the Senators prospects.
Winnipeg Sun:  Mystery goalie Carlson catches break with Jets.  His comment "I drove" made me laugh as he had an exchange with Paul prior to puck drop.
Winnipeg Free Press: Jets likely flying into turbulence after losing half of top-six D-men. (Paywall).  It certainly isn't gonna be very easy with a lot of question marks on the backend.  The good news for the Jets is there is quite a lot of talent with guys like Niku and Poolman.
Winnipeg Free Press:  Senators make short work of Jets' patchwork prospect team.  (Paywall).  Mike adds his thoughts on last night's contest.
The Athletic Winnipeg:  The road to new deals for Patrik Laine and Kyle Connor.  (Paywall).  Ken's first column for his new publication touches on a subject pretty much everyone in Winnipeg has thought about this summer as he draws his road map to get things done with these two RFAs.
Jets video:
TSN:  Jets have work cut out for them in Laine, Connor negotiations.  Restricted free agents have dominated the NHL offseason headlines and the Jets have double the work to do with Patrik Laine and Kyle Connor. How will the team manage to sign both players with $16 million in cap space? That's Hockey weighs in and discusses the holes they still need to replace on defence.
TSN: When will Laine and Connor sign? Kyle Connor and Patrik Laine remain without contracts with the Jets' training camp quickly approaching. Sara Orlesky talks about when they could sign new deals, discusses if the top line will stay together and shares her thoughts on where everyone will fit in on the blue line.
TSN: Brown notches two as Sens rout Jets. Logan Brown scored twice and added an assist, Maxence Guenette helped with three assists of his own as the Sens downed the Jets 8-1 at the NHL Rookie showcase in Belleville. Parker Kelly also scored a highlight reel marker while on his stomach.
Wheat Kings news:
Brandon Sun:  Thorpe nets pair as Wheat Kings beat Ice 5-0.  Read about last night's first pre-season game for both Brandon and Winnipeg.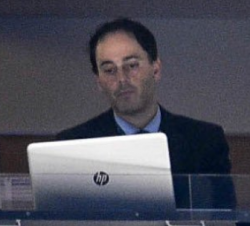 Latest posts by David Minuk (see all)