Note:  September is here and we have put out a list of important dates for the Winnipeg Jets, Manitoba Moose and the newest kid on the block Winnipeg Ice.
Jets news:
NBC Pro Hockey Talk:  What can we expect from Patrik Laine in 2019-20?  If his shooting percentage gets back to 18% then probably an additional 10-15 goals.  And if he has worked on the elements of his game that needed work it could be a huge year for the Finnish sniper with the rocket shot.  Especially if he signs a bridge deal.
NBC Pro Hockey Talk:  Heated seat switched on for Jets' Paul Maurice.  High expectations won't diminish this season and it will be incumbent on the Jets bench boss to ensure that a second half decline doesn't occur again this year.
NBC Pro Hockey Talk: When will Jets sign Laine, Connor?  That's the million dollar (times 15-16) question.
Jets video:
Missed this the other day. Sportsnet's NHL insider Elliotte Friedman joined Tim and Sid to discuss potential landing spots for UFA defenceman Jake Gardiner (Jets mentioned) as was the Winnipeg cap situation.
Illegal Curve Hockey Show:
Topics: The contract statuses of Patrik Laine and Kyle Connor, What can fans expect from newly signed Gabriel Bourque this upcoming season, The RFA logjam throughout the NHL, Minnesota Wild hire Bill Guerin as General Manager replacing Paul Fenton, Leon Draisatl's comments about Jesse Puljujarvi.
Guests: Scott Billeck (Winnipeg Sun) at 27:10, Mike McKenna (former NHL/AHL goaltender, Vegas Golden Knights Analyst) at 51:03, Sarah McLellan (Minneapolis Star Tribune) at 1:14.
To listen click here.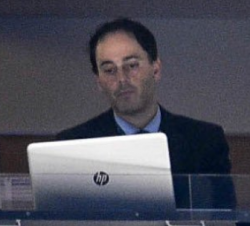 Latest posts by David Minuk (see all)