Note:  As always we will have all the latest audio from both the Leafs and Jets rooms throughout the day and following the game.
Jets news:
Winnipeg Free Press:  Jets forwards among cellar dwellers in payroll, goals scored.  It was pretty well established at the beginning of the season that this team wasn't blessed with a ton of natural scoring.  The hope was young guns like Kane and Burmistrov would develop but injury has sidelined them both during the course of the season.
Winnipeg Free Press:  Can Kane raise the offence?  If he returns tonight, it will be an opportunity for the Jets young star to put the team on his back and carry them.  If you want to get paid the big bucks, you need to demonstrate that you have the ability to dominate games.
Winnipeg Sun:  Time is running out for Jets.  The Jets are closer to last in the Eastern Conference (5 points) than they are to the 8th and final playoff spot (7 points).  Is it time to hit the panic button?
Toronto Star:  Relaunched Jets have Winnipeg flying high.  The energy in this city was and is completely different since that fateful day in May 2011 when the birth of the Jets 2.0 was announced.  While the team might struggle on the ice, the fans in the stands continue to treat each and every game like a festival.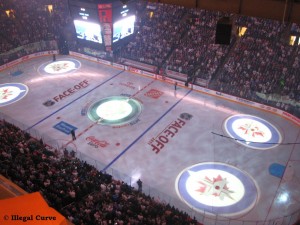 Globe and Mail:  Punch-less Jets desperate for scoring touch.  There is no denying the Jets lack of scoring (3rd last in the East and having played more games than both the Sabres and Islanders) but hopefully the return of Evander Kane will be just what this team needs to start scoring again.
Relocation news:
Winnipeg Free Press:  Hey Quebec, build it and NHL might come.  The buzz seems to have switched from Quebec City to Seattle with word that the Starbucks capital might be trying to lure both the NHL and NBA back in one fell swoop.  Gary hits it on the head when he says:
Make no mistake, it's a competition. It's not about emotion and privilege. It's about money, business and the cleanest deal.
Affiliate news – Colorado Eagles:
Northern Colorado:  Eagles add All-Star goalie.  Always good to add more talent to the mix.
Next opponent news – Toronto Maple Leafs:
Toronto Sun:  Leafs blast Oilers, Jets next.  The Leafs are hot, having gone 6-1-1 in their last 8 games, but can the Jets take advantage of a Toronto team who is playing the 2nd game of a back-to-back?
Toronto Sun:  Reimer socks it to superstitions.  I like that attitude.  Like he said, if you could simply chalk it up to lucky socks then why bother working your butt off all summer to get in shape.