Jets news:
Winnipeg Free Press:  Jets are what they are — Thrashers north.  As we showed during the 1/2 way point of the season, these two teams had remarkably similar numbers, with Atlanta actually having a 17 more goals for.  Of course this Jets team has had more than its fair share of injuries.  This team wasn't going to have any 50 goals scorers, but any line chemistry has been killed by the inordinate number of injuries this team has suffered.
Winnipeg Free Press:  Noel reckons troops are tired.  The travel schedule hasn't been kind to the Jets.  Many saw the post All-Star game road trip, where Winnipeg plays 6 of 7 away from the MTS Centre, as critically important for the team's post-season chances.
Winnipeg Sun:  Snapshots.  Playoff dreams fading fast.  Big Buff beaten down by CBC analysts.  Time for Buff in front?  Jets cannot be Habs.  Other teams can win the 2nd game of a back-to-back, why not Winnipeg?  Safeway promotion safe.  Miettinen's chances.  Carey Price flopping.  Poor line change costs Jets a goal.  Machacek gets some time.  Wheeler steps up.  PP stinks.
Winnipeg Sun:  Wheeler hits the boiling point.  His frustration is easy to understand.  This team just can't seem to get those lucky breaks and it boiled over during the loss to the worst team in the Eastern conference.  The Jets have to re-group for Tuesday's game at home to the Leafs.  Good news (or so we thought when the Jets were playing a supposedly tired Habs team playing the 2nd game of a back-to-back) is that Toronto plays at home to Edmonton tonight before playing in Winnipeg Tuesday night.
Winnipeg Sun:  Jets bench struggling Fehr.  To be fair he has simply not gotten back to his per-surgery form.  Sitting managed to help Chris Thorburn so perhaps some time off will give Fehr some time for get re-focused, although the belief is his problems are more physical than mental.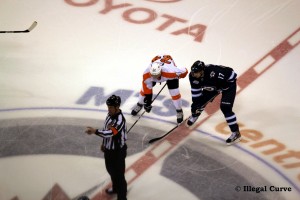 Globe & Mail: Will Southeast Division NHL teams be buyers or sellers at the trade deadline?  The Jets are looking more and more like sellers.  Without stringing a few wins together over the next two weeks, Kevin Cheveldayoff will be expected to sell a number of the team's pending UFAs, at minimum.
USA Today: NHL Eastern Conference trade deadline outlook.  Kevin Allen speculates that both Johnny Oduya and Ron Hainsey could be on the way out.
TSN:  Offence continues to struggle on the road.  Dennis brings up a key point.  The Jets miss way too many shots on net.  How many times do the Jets get in deep only to completely miss getting the puck at the oppositions tender.  Then, of course, the puck inevitably gets out of the offensive zone and the Jets forwards are pinned deep.
Illegal Curve:  Jets on a Deadline – Canadiens 3 Jets 0.  Game recaps, video highlights and the NHL.com 3 Stars of the night.
Affiliate news – St. John's IceCaps:
The Telegram:  IceCaps go down fighting.  While fans probably appreciate goals and wins more than fights and losses, the occasional fisticuffs from the home team can bring the crowd to its feet.
Next opponent news – Toronto Maple Leafs:
National Post:  Leafs should stand pat at trade deadline.  Mortgaging the future for the chance at present success seems to be a GM's kryptonite.
Toronto Sun:  Leafs' D deadly at both ends of rink.  Most coaches would kill to have contributions from their D in both ends of the rink.