Note:  A Happy Birthday from Richard and me to our baba (grandmother) who turns 90 years young today.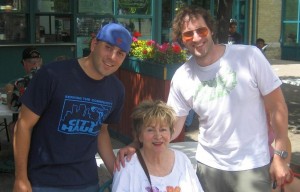 Jets news:
Winnipeg Free Press:  Jets need spark from Burmistrov's return.  Hopefully he can get some big minutes from his coach playing with complimentary linemates, which should afford him the opportunity to show off his skills.

Winnipeg Free Press:  Byfuglien's back after 16 games.  Let us hope that his return will see a higher output of scoring than the Jets have accomplished during his absence.  The Jets only scored 4 goals once in January and are going to need Big Buff's big cannon from the point to help increase those goal totals.
Winnipeg Sun:  Tkachuk feels Kane's pain.   At this point Kane can only learn from what has happened and more forward.  As Tkachuk advises, Kane needs to focus on his on-ice production and to be conscious of what he does off the ice.
Winnipeg Sun:  Philly win a springboard?  The team is going to need to run through South Florida and come out with 2 victories, perhaps for the first time all season winning back-to-back games.
Globe and Mail:  Byfuglien verging on return to boost Jets.  His return would be just in the nick of time for the Jets playoff hopes.  
Winnipeg Free Press:  Social media the new way of marketing.  There is no question that both Twitter (speaking of, why not follow @illegalcurve) or Facebook ('Like' us on there as well) are both excellent vehicles to spread a message.  It is how we at Illegal Curve communicate with many of our readers and many Winnipeg based retailers do as well.   Perhaps in an effort to sell the IC New Era 5950 hat (available online and at City Haul), we need to start tweeting about it more.

ChrisD.ca:  The Forks throwing 'Hockey Day in Canada' Party.  With the weather we have been having lately it is going to be quite the party next Saturday.
Affiliate news – Colorado Eagles:
Reporter-Herald:  Defenceman Chiarot keeping NHL dreams alive and well.  Playing in the ECHL doesn't mean that you can't have a career in the NHL.  It is an opportunity for a young guy like Chiarot to play big time minutes.  Minutes he wouldn't see with the IceCaps due to the glut of defencemen they have on the roster.
Reporter-Herald:  Sides joins Eagles.  Sides was a CHL All-Star last season when playing for the Arizona Sundogs.  He began this year in Europe before returning to North America.
Next opponent news – Tampa Bay Lightning:
Globe and Mail:  The man behind the Lightning bolt.  While people love to point out Southern failures, the Bolts under Vinik are showing that they can be a success.
Tampa Bay Times:  For now, at least, Mathieu Garon is Bolts #1 goaltender.  Despite Roloson getting Tampa to game 7 of the Eastern Conference Finals last season it appears that coach Boucher is gonna ride the more consistent goalie.