Jets News:
Winnipeg Free Press:  Want pizza?  Jets deliver.  With all these references to free pizzas you'd think Pizza Pizza or 222 would do a promo.  It was a game the Jets should have had and one they might look back on and regret giving up the points to Florida.  Panthers goalie Scott Clemmensen played a heck of a game, stopping 41 of 44 shots.  The killer in the game were the turnovers by the Jets which were quite egregious and capitalized on almost every time.
Winnipeg Free Press:  Sniper lost 1 week or more.  The Jets can ill afford to lose his scoring touch at this point in the season.  They have a big game against the basement dwelling Hurricanes on Monday and then against the head of the class Rangers on Tuesday.  The good news is thanks to the All-star game the Jets won't play again till the 31st and that should give the Jets star some time to heal.
Winnipeg Free Press:  Kane entitled to rights as a citizen.  Excellent column by Gary on what is fair and what is foul when it comes to making accusations of people.  While fans are entitled to their opinion of players, they should keep it hockey related and not go digging into spurious claims that are really the result of broken telephone and could enter the realm of a libelous claim.
Winnipeg Sun:  Snapshots.  Emotional roller-coaster.  Fehr back where he belongs.  Bogosian's triumphant return.  Free pizzas.  Antropov line only one to remain unchanged.  Wellwood still needs to shoot more.  Fan sent for repairs in section 121.  Thorburn still stymied.  Pavelec wasn't his strongest.  Neither was Wheeler.  Burmistrov's promotion.  4 on 4 instead of 5 on 5.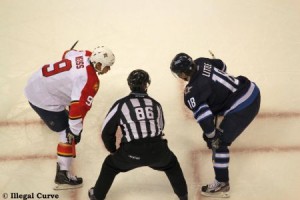 Winnipeg Sun:  Stars not aligning for Byfuglien.  Unfortunately the Jets big man won't be able to showcase his skills to the world but he will hopefully recuperate and be ready for the push that is going to come following the All-star break.  The Jets play the Flyers on the 31st and they could use Buff back against, as coach Noel would say, a "heavy" team like Philadelphia.
Game Recap – Panthers 4 Jets 3 in shootout:
Winnipeg Jets audio:  Alexander Burmistrov and Zach Bogosian.
Florida Panthers: Kris Versteeg, Scott Clemmensen, and coach Dineen.
Illegal Curve:  Post-game podcast.  Host Drew Mindell and Analyst Richard Pollock break down the Winnipeg Jets 4-3 loss.
Illegal Curve:  Jets on a Deadline.  Game recaps, post-game audio, video highlights and the NHL.com 3 Stars.
Affiliate news – St. John's IceCaps:
TSN:  Pogge has 25 saves as Pirates defeat IceCaps.  Caps were burnt by former member of the Jets Brett MacLean and the goaltending of Justin Pogge.
Next opponent news – Carolina Hurricanes:
News and Observer:  Skinner scores, then Tavares takes over.  The Jets sit 7 points up on last place Carolina and can ill afford to lose the game on Monday.  Carolina has played better of late going 4-3-3 in their last 10 games.