Note:  Tune into the Illegal Curve Hockey Show at noon to 3 pm today on TSN Radio 1290.  Today's guests include Mike Johnson (TSN), Ed Tait (Winnipeg Free Press) and David Edner (Globe and Mail).
Winnipeg Free Press:  Kane out while recuperating from concussion.  Despite his slump, the Jets could always use the speedy Evander in the lineup.
ChrisD.ca:  Provincial amateur athletes treated to Jets games.  Nice way to reward these amateur athletes.
Winnipeg Free Press:  Tensions mount in Eastern bloc.  The Jets are 7 points back of the 6th spot Penguins but are also 7 points ahead of last place Islanders, Lighting and Hurricanes.  The next 11 games are against Eastern conference opponents and will be critical if the Jets are to ever get back over the playoff line.

Winnipeg Free Press:  Made of 100 per cent TRUE GRIT.  A quiet guy without a lot of flash, he has quickly become a fan favourite for the intangibles he brings to the game
Winnipeg Free Press:  Can't fault Hainsey for not being dumb.  If a team is willing to pay a player the big bucks he can hardly be faulted for signing the deal.
Winnipeg Free Press:  Big Buff unlikely for all-star game.  It would be a shame for the NHL's newest franchise not to have a presence at the All-Star game in Ottawa this season.
Winnipeg Sun:  Stapleton impressing with little ice time.  He has been the little engine that could all season.  He is happy playing on the 1st through 4th lines as long as he is able to contribute.  The ultimate team player, he is a valuable asset to this team.
Winnipeg Sun:  Jets defenceman a human road map.  Tough as nails, blocks shots, fights and plays a solid defensive style.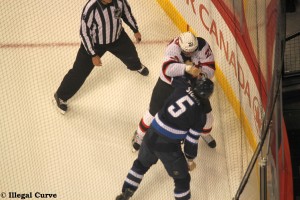 Winnipeg Free Press:  NHL fines Antropov $2,500.00.  He received the maximum fine allowed under the CBA for this incident.  Fair or foul?
Affiliate news – St. John's IceCaps:
TSN:  Jaffray scores quick overtime goals as IceCaps beat Whale.  The IceCaps continue to show that they know how to win on the road.
Next opponent news – Florida Panthers:
Chicago Tribune:  Hawks handle Panthers.  Another instance of the Hawks beating up an opponent who next has to travel to Winnipeg.
Sun-Sentinel:  Panthers trio returns after long absences.   It wasn't a happy homecoming for the former Hawks despite the warm ovation they received from the United Center crowd.