Jets news:
Winnipeg Free Press:  Stinky sequels.  Good news for the Jets is as bad as they have been at winning the 2nd game of a back-to-back, they have been good at finishing of a team playing in that situation.  Luckily for them they will face the Sabres on Thursday that has to go through Chicago on Wednesday.
Winnipeg Sun:  Snapshots.  Back-to-back games comical.  Six more to go.  Kane's not able.  Antropov's iron.  No legs for comebacks.  Stick-slashing idiotic.  Slater's strong game.  Burmistrov need to shoot more.  Poor energy in Jersey.  Flood's hard work.  Little not yet up to speed.  Better 3rd period.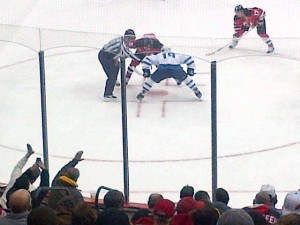 Winnipeg Sun:  Up one day…down the next.  Just when you think that every team in the NHL probably stinks in the 2nd half of a back-to-back you see that it causes no issues to some teams.  Perhaps the Jets need to study and copy how teams like Chicago (7-2-1) and New Jersey/Detroit (7-3)  prepare as they have demonstrated no failings when it comes to these types of games.
Winnipeg Free Press:  African restaurants score Jets business.  Another example of how the Jets return has impacted the downtown of Winnipeg.
Illegal Curve:  The 59Fifty hat.  We branch out with 2 style's of New Era hats.
Game Recap – Devils 5 Jets 1:
Illegal Curve:  Jets on a Deadline – Devils 5 Jets 1.  Game recaps, video highlights and the NHL.com 3 Stars.
Affiliate news – St. John's IceCaps:
Sentinel & Enterprise:  Worcester Sharks move Sunday's start time.  If you were concerned about missing the Ravens/Patriots game on Sunday because you would be watching the IceCaps play the Sharks, worry no longer as Worcester has moved the game to accommodate NFL fans.
Next opponent news – Buffalo Sabres:
Buffalo News:  Sabres seeking solution to slump.  A season that began with such promise is quickly getting away from the Sabres.  As good friend to the show Mike Harrington writes "They are closer to last place in the Eastern Conference than the playoffs".
WGRZ.com:  Robitaille on Sabres woes.  Long time Sabres analyst Mike Robitaille gives his thoughts on what has gone wrong with the Sabres this season.
WIVB.com:  What do the Sabres need to do?  Is it time to blow this team up?  Fire the coach?  Fire the GM?  Maintain the status quo?