Winnipeg Free Press:  Practice optional today for team hit by flu bug.  The Jets are taking it easy today in Buffalo, whereas the Sabres are off playing the Hurricanes tonight in Raleigh.
Winnipeg Free Press:  Jets miss boat in Toronto.  The Jets play Eastern Conference teams all but once this month (San Jose on January 12th) and these games are too important to maintaining a playoff position, to give up as easily as they have in Montreal and Toronto.
Winnipeg Free Press:  Jones' puck toss has Leafs boiling.  In the much ado about nothing category….
Winnipeg Sun:  Snapshots – In dire need of a life preserver.  Not a good start to road trip.  Mixing up the tenders.  Not hard work for Leafs goalie.  Injury depletion takes toll.  Scheifele's strong end to World Juniors.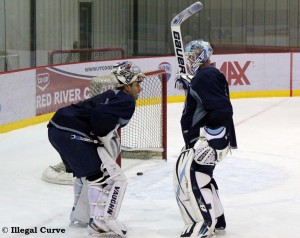 Winnipeg Sun:  Mason irked by spin-around goal.  I can see why he was irritated by the goal but as he said, the game was out of hand by that point anyways.
Illegal Curve:  Jets on a Deadline.  Game recaps from all the papers, video highlights and the NHL.com 3 Stars of the night.
Next opponent news – Buffalo Sabres:
Buffalo News:  Miller ready to make historic charge.  The Jets don't want the struggling Miller to regain his past form on Saturday night.
Buffalo News:  Goals – two wins in a row.  Good news for the Jets, the Sabres will play tonight in Carolina.  While the Jets haven't won the 2nd game of a back-to-back, they've shown good killer instinct finishing off teams coming off same.
WIVB:  Sabres invite fans to viewing party.  As a result of a dispute between Time Warner and MSG folks in New York state won't be able to watch the Sabres take on the Hurricanes tonight.   As an alternative, Buffalo is opening up the First Niagra Center to fans who want to watch the action.
World Juniors Report:
IIHF:  Sweden ends 31-year drought.  One thing the Saddledome crowd was happy about was that Russia didn't win.  When Senators prospect  Mika Zibanejad ended the game at 10:09 of OT on the 58th shot for the Swedes, the place went bananas.  Great performance by Russian netminder Andrei Makaro but Sweden ended over three decades of World Junior frustration last night.  
Globe and Mail:  Mark Visentin earns his near-Hollywood ending.  It wasn't the conclusion that the Canadian kids wanted but at least they were able to secure a medal.
Edmonton Journal:  World junior tournament soars to new levels.  Isn't everything bigger in Alberta?  An excellent World Juniors  Tournament that the Province and Hockey Canada can be proud of.