NHL.com:  Backup Chris Mason doing the job.  He is 5-2-0 this season as the Jets backup, although as Evander Kane said last night he doesn't reference Mason as Pavelec's backup, more like 1A and 1B.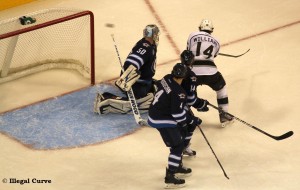 Winnipeg Free Press:  Cormier joins Jets later than expected.  He added a tough, hard-nosed element last night.  Definitely a little sand paper for the Jets.
Winnipeg Sun:  Jets Kane has anger with purpose.  The team showed they wouldn't be pushed around and even though the consensus was the hit on Stapleton wasn't dirty, it was nice to see Kane jump in to defend his teammate.
Winnipeg Sun:  Snapshots.  Kane breaks OT curse.  Big saves set tone.  Great pace to game.  Burmistrov in fine form.  Drew Doughty causes doubt.  Crowd shows Kane love.  Penalty trouble.  L.A.'s Brandon connection.  Man games missed this season.  Battle of Winkler.  Kings brought dad's on this trip.  Missing Slater and Little.  Bogosian's hit on Doughty.

Winnipeg Free Press:  Gain a Buff, lose a Buff.  As Coach Noel said yesterday, it always hurts to lose a guy like Buff, especially when playing a 'heavy' team like the Kings.  However the Jets have proven that they can play with holes in their lineup and they did it once again defeating LA without their big defenceman.
Winnipeg Sun:  Jets players feel what NHL's return means to fans.  It has been a remarkable 37 games so far in 2011 and if the Jets continue to play the way they have of late, they could give fans even more to remember from this 1st season in the NHL.
Winnipeg Free Press:  New Jets jerseys were big hit on web.  Not that surprising that the Jet jersey reveal would rate as one of the top stories of the year.  For those that would appreciate a reminder IC was also at 17 Wing for the Jersey reveal and had a number of articles that day including a pictorial summation as well as an interview with Dominique Fillion, the lead uniform and team identity designer for Reebok and the NHL.
Game Recap – Jets 1 Kings 0 in OT:
Winnipeg Jets:  Chris Mason, Evander Kane, Zach Bogosian, Blake Wheeler and Ron Hainsey.
Los Angeles Kings: Jack Johnson and coach Sutter
Illegal Curve:  Post-game podcast.  Rich, Drew and Michael give you their impressions of the game from the press box.  Ezra and Dave got audio from both dressing rooms.
Jets on a Deadline:  Jets 1 Kings 0 in OT.  Game recaps, post-game audio, video highlights and the NHL.com 3 Stars.
Next opponent news – Toronto Maple Leafs:
Toronto Star:  Leafs goalie Reimer fails to bounce back.  Five questions are answered about the Leafs play on Thursday.  
Globe and Mail:  Leafs let another slip away.  With the Toronto loss and the Jets win, the team's are tied for 6th spot in the East with New Jersey.
Globe and Mail:  Kadri making most of promotion to Maple Leafs.  Has he finally fixed the flaws in his game?  In his 3 games back from the AHL it would seem that coach Wilson feels he has improved.
Toronto Sun:  Leafs snapshots.  Poulin puttin on jersey again.  Last time Leafs played in Winnipeg.  Leafs bad PK.