Note:  Tune into the Illegal Curve Radio Show on TSN Radio 1290 starting at 12 pm until 3 pm cst.  Check out our show preview for our list of interesting guests.  If you have any questions send us an email or send us a tweet @illegalcurve.
Winnipeg Free Press:  Jets news and notes.  Hainsey uncertain to start tonight in Beantown, Canes coach compares Jets to Thrashers, are Burmistrov's struggles over?
Winnipeg Free Press:  Jets reach altitude of .500.  As captain Ladd goes, so go the Jets.  The Jets captain has steered this team to a .500 record largely as a result of his very strong play the last few games.  He has been very noticeable all over the ice.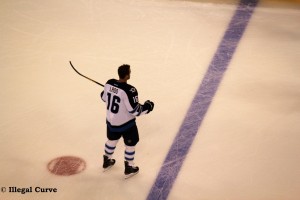 TSN:  Jets moving in the right direction.  The Jets definitely played a very good road game.  To hear more of Dennis thoughts on the Jets be sure to tune into today's Illegal Curve Radio Show from 12-3pm, as Dennis will be our guest at 12:30 pm.
Winnipeg Sun:  Jets snapshots – Great road game.  Fast pace to game, Eastern Conference is tight, Jets problems in extra time, Wheeler leads team in +/-, penalty trouble rears head again, Antropov's skill, Fehr scoring chances, Mason's hard work, coach Noel line mixing, Ladd point streak, Bryan Little's improved play, Bogosian's strong play, on to the Bruins.
Winnipeg Free Press:  Hockey history is deeper than our love affair with the Jets.  Alan Small takes a look at some of the hockey books that are available this season including one that looks back at hockey history in this city going back to the early 1900's.  If you head to Chapters/Indigo before Sunday you can take advantage of their Black Friday (since when did we start celebrating this in Canada) of buy 3 books, get the 4th free deal.
Illegal Curve:  Jets on a Deadline – Canes vs. Jets.  Game recaps from all the major newspapers, video highlights and 3 stars.
Jets Affiliate news – St. John's IceCaps:
The Telegram:  Marlies take OT win.  The re-match takes place tonight at 7:30 pm and you can bet IceCaps coach Keith McCambridge will have his troops ready.
Jets next opponent news – Boston Bruins:
Boston Herald:  Tim Thomas back in net.  The Jets are facing the 37 year old Thomas who has been instrumental in the Bruins sizzling hot November.
NESN:  Daniel Paille flashes old form.  He has returned to the ice after a pretty bad injury and was instrumental in rallying the Bruins against the Wings yesterday.
Boston Herald:  First-quality work by Bruins' 4th line.  A line that can score and bring some ruckus, and no we aren't talking about the Jets GST line which wasn't together for yesterday's game against the Canes.  The trio of Thornton, Paille and Campbell were used at critical moments against the Wings, showing coach Julien's trust in his 4th line.
Boston Herald:  Bruins' streak ends at 10 with shootout loss.  The B's still have points in 11 straight games, so the Jets will have to bring their 'A' game in order to leave TD Garden Arena with all the points.
Boston Herald:  Few inches go long way.  Few teams want to go 1 on 1 with the Wings in a shootout, so when Chara's blast missed the goal in OT, Bruins fans had to know their team was in trouble against the talented/dynamic Wings shooters.