Globe and Mail:  Jets find little comfort at home.  Coach Noel didn't couch his disdain for his team's effort following the 5-2 loss to the Panthers.
Winnipeg Free Press:  Jets crash and burn in loss to Panthers.  Put aside the questionable penalties, the Jets learned a valuable lesson last night.  You cannot afford to take off a period (or two) in the NHL and expect to win the game.
TSN:  Jets fail to get off ground following long road trip.  At least Bryan Little was 75% in the faceoff circle.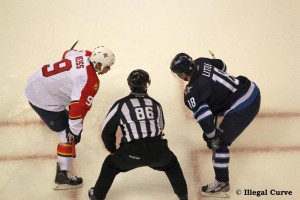 Winnipeg Sun:  Jets snapshots – looked tired and disinterested.  It was a shame the Jets didn't bring their attitude from the 3rd period for the entire game.  Could have been a very different result if they had.
Illegal Curve:  Jets post-game audio.  IC spoke with Andrew Ladd, Ondrej Pavelec, Tim Stapleton and Zach Bogosian.
Illegal Curve:  Panthers post-game audio.  IC spoke with Brian Campbell, coach Kevin Dineen, Ed Jovanovski, and Jose Theodore.
Winnipeg Sun:  Jets forward Fehr removed from injured list.  The Jets will be happy to get the lanky right-winger back in the lineup but don't expect him back just yet.
Winnipeg Sun:  Jets go wild with words.  Not the way you would expect to spend their time off during the road trip.
Winnipeg Sun:  A lot changes when Jets away.  Luckily for the Jets (and fans) the team will be home for almost all of December.
Illegal Curve:  Winnipeg Jets players doing Movember.  The Jets Movember looks 10 days in.

Winnipeg Free Press:  Hey Dave Babych, can you tie my skates?  If you grew up idolizing the Jets 1.0, how cool would it be to find yourself partnering up with him on defence!  Of course when you see Dale Hawerchuk blowing past you, you probably are hoping that Babych has your back.
TSN:  Ducks claim Maxwell off waivers from Jets.  The Jets didn't seem to have a spot for Maxwell and the Ducks snagged him off waivers.
Metro News:  Not bad now, but just wait till Jets are fully fueled.  Fans need to be prepared to wait.  And based on the calls to the TSN 1290 Post Game Show, many aren't displaying a lot of patience.
Jets opposing team news – Columbus Blue Jackets:
CBC:  Another long night for last-place Blue Jackets.  Do the Jackets look at the Jets as a team they can stop their skid against?
Columbus Dispatch:  Russell traded to Blues.   The Jackets are doing whatever they can to spark this team.