Winnipeg Free Press:  Bogo finds his mojo.   Many thought that Bogosian was unhappy coming to the city in the summer (hence long time to sign contract) but he has embraced this city.
Winnipeg Free Press:  Flawed and fabulous.  Ed Tait gives us six things that we learned about the Jets while they were gone.
Winnipeg Free Press:  Jets No. 2…for cost of beer.  Perhaps increasing the cost of beer will decrease the amount of inebriated fans, who get into all sorts of ruckus later in the game.
Winnipeg Sun:  Call them team unpredictable.  The Jets have been anything but boring.  One night its a scoring fest and the next it is a low scoring affair.
Winnipeg Sun:  Jets Bogosian coming on strong.  If you need a mentor, Charlie Huddy is a pretty darn good one to teach you the ropes.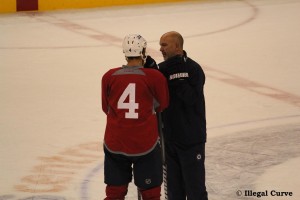 Winnipeg Sun:  What we've learned so far about the Jets.  Ken Wiebe goes through five things the Jets have shown in the first 15 games.  All five have proven significant.
Globe and Mail:  Jets coach fed up with team's penalty problems.  At the start of the season I didn't anticipate a lack of discipline being a major problem for this team, but they are one of the most penalized teams in the league currently.
Jets Affiliate news – St. John's IceCaps:
The Telegram:  Jets place Maxwell on waivers.  The Jets have made some funny waiver moves so who knows where Maxwell will end up.
Brandon Sun (registration required):  St. John's suits Wiebe well.  The Brandon, Manitoba product seems to be enjoying his time in Atlantic Canada.
Jets next opposition news – Florida Panthers:
Sun-Sentinel:  Panthers trip to Winnipeg brings back memories.   Interesting that there are two guys on the Panthers (including one who played with the 1996 Panthers) who faced off against the old Jets 1.0.
Miami Herald:  Jack Skille finally achieves his goal.  Skille will be on the receiving end of a lot of Jets fans boo's after he put defeceman Tobias Enstrom out of the lineup with a broken collar bone.