Montreal Gazette:  Winnipeg Jets to get Canada Post's stamp of approval.  We will be covering the release on Thursday of this commemorative team stamp.  Any Jets fans who also consider themselves to be a philatelist?  If so, is this just going to be a cool thing for Jets fans or does this have the potential to be an item of value?
Winnipeg Free Press:  Sabres pounce on Jets.  At least the guys are mad about losing out on a point.  While they might have been complacent and felt that getting one point at the end of a long road trip was sufficient, the Jets should have won last night's contest.
Winnipeg Free Press:  Little lightens load.  Ironic how in yesterdays papers there were a number of articles about Little's lack of production.  I bet Blake Wheeler is hoping that he gets written about next.
Winnipeg Sun:  Jets just say no to drugs.  The NHL is fairly regulated when it comes to drug testing so I am not surprised by the Jets players responses.
Winnipeg Sun:  Discipline a major problem in Jets loss.  The Jets were given 12 penalties to the Sabres 5.  The Jets needed to recognize that the refs were a bit whistle happy (to say the least) and try and adjust their game accordingly.
Buffalo News:  Hawerchuk, Jeanneret share spotlight.  The Sabres organization put on a great pre-game ceremony for these two notable fixtures in their organization.  While fans in Winnipeg think of Ducky as "ours" he did spend 5 solid seasons in Buffalo.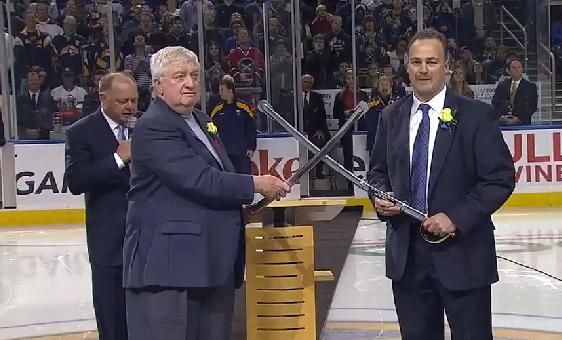 CBC:  Live chat at 3pm ET – Winnipeg Jets.  If you want to discuss all thing Winnipeg Jets, here is your chance.  Craig Simpson of Hockey Night in Canada will be talking with fans online about your Winnipeg Jets.
Winnipeg Free Press:  MTS lowers community clubs' fees for TSN Jets.  Good PR move by MTS.
Winnipeg Free Press:  Sabres enshrine Jets legend Hawerchuk.  At what point do Winnipeg fans start to push to have the old Jets 1.0 so honoured?  While the history wasn't carried over, as I have said previously, the relationship between the people of this province and players like Ducky or Teemu cannot be limited by "ownership" of history.  If you don't agree I'd suggest you tune into the December 17th Jets/Ducks game and listen to the standing ovation Teemu will receive.
Illegal Curve:   Jets on a Deadline – Jets v. Sabres.  Recaps, video highlights and the Three Stars.
Jets Affiliate news – St. John's IceCaps:
The Telegram:  DeSantis proves worth his wait.  The obvious depth the Jets have on their farm team is a testament to the True North ownership group awareness that a strong farm team is best for the parent club as well.
Jets next opposition news – Florida Panthers:
Miami Herald:  Panthers hold lead this time.  The Jets are going to be facing a tough Florida squad who are off to their best start since the 1996/97 season.
Miami Herald:  Panthers notebook.  Robb Tallas Newest U.S. Citizen, Mikael Samuelsson Skates in Coral Springs.