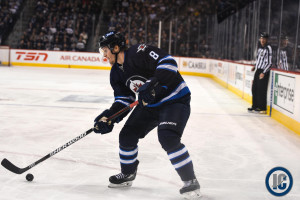 Today it was announced by the Anaheim Ducks that they had signed their restricted free agent defenceman Hampus Lindholm to a six year deal.  Of course this also meant that everyone in the NHL switched their focus to Winnipeg before the ink had every dried on the Lindholm contract.  Ever since Trouba's September 24th trade request there has been plenty of speculation in our province as well as across the NHL with plenty of teams showing interest in the versatile defenceman.
According to Ken Wiebe of the Winnipeg Sun:
Spoke to Kurt Overhardt,agent for #NHLJets RFA D Jacob Trouba. "It's status quo. Nothing has changed. The document we put out still stands."

— Ken Wiebe (@WiebeSunSports) October 27, 2016
Gary Lawless of TSN and TSN 1290 Winnipeg added this:
1. latest comment form Kurt Overhardt regarding Jacob Trouba and #nhljets: The situation is solely about usage.

— gary lawless (@garylawless) October 28, 2016
2. As previously stated, it has nothing to do with Winnipeg as Jacob has the upmost respect for the fans, city, teammates and organization.

— gary lawless (@garylawless) October 28, 2016
In case you were wondering the document that Trouba's agent is referencing is this one reading:
"Our client, Jacob Trouba, will not be attending the Winnipeg Jets NHL training camp. Since May, we have been working with the Jets management in an effort to facilitate a trade of Jacob's rights. Both parties continue to work on this matter.
There has been no negotiation regarding the terms of a contract between our client and the Jets over the course of the last several months. The situation is not about money; it is solely about our client having the opportunity to realize his potential as a right shot NHL defenseman.
To the Jets credit, the club has two outstanding right shot veteran defensemen and our client simply wants the opportunity to have a greater role. As a consequence of the Jets depth on the right side, we believe it is in both parties' best interest to facilitate a mutually advantageous trade.
Our client has nothing but respect for the people and City of Winnipeg, the Winnipeg Jets, its fans, management and ownership – our desire to get him moved has everything to do with opportunity. We will continue to work with the Jets in good faith to achieve this end."
As we wind down to the December 1st deadline for Trouba to sign with the Jets or he will be forced to miss the rest of the NHL season there has been plenty of news, including:
Today's Slapshot:  Bob McKenzie – I don't believe Jets are 'proactively trying to move' Trouba.   (Oct 28th)
TSN:  The tangled path ahead for Trouba, Jets. (Oct 27th)
TSN:  Insider Trading (video) (Oct 27th).  (Update – This doozy from Darren Dreger after he spoke with some NHL GMs, as there was Canadian interest in Trouba to which Dreger indicates he was told: "The belief is Trouba doesn't see a fit in Canada."  Also mentions that Jets were(are) willing to pay Trouba for six years at 5.5 million.)(Starts at 2 minute mark).
The Hockey News:  More Jets losses might fast-track a Jacob Trouba deal. (Oct 27th)
Metro:  Time is ticking for Jacob Trouba. (Oct 27th)
Illegal Curve:  Saturday Headlines – Trouba.  (Oct 22nd)
Toronto Sun:  Young NHL depth players like Jacob Trouba asking for more — right now.  (Oct 20th)
TSN:  Jets, Trouba still at an impasse. (Oct 20th)
NHL.com:  Despite 'lots of work,' Jets, Jacob Trouba at impasse. (Oct 19th)
So what is going to happen with Trouba?  Vote in our poll and let us know what you think is going to happen with the talented young RFA defenceman.