IC's Drew Mindell, Richard Pollock, Ezra Ginsburg with fellow Peggers and Jets sympathizers took over MSG last night: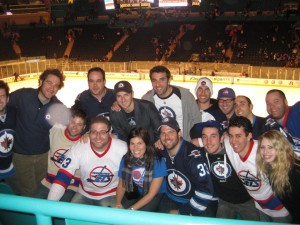 Winnipeg Free Press:  Celebrity hockey classic features former NHL players.  If your business raised the most money, who would you take first overall?
Jets Nation:  All you gotta do is call.  A look at three guys that should be considered to take over for the injured Jets.
Winnipeg Jets:  Jets/Sabres preview.  The last road game of the seven.  It feels like ages since the Jets have played at the MTS Centre.  A win tomorrow night in Buffalo would be a significant way to end this road trip.
Jets Affiliate IceCaps/Eagles News:
The Flow:  Aebischer falters, but IceCaps wrap up successful road trip.  If you thought the Jets had a successful road trip the farm team took 10 of a possible 12 points.
The Coloradoan:  Eagles Marto returns after one game with AHL's IceCaps.
Jets next opponent news – Buffalo Sabres:
Buffalo News:  Sabres' Miller has explicit desire to return to net and win.  An angry Ryan Miller, who is usually quite mild mannered, doesn't bode well for the Jets.  Audio of Miller and Sabres coach Lindy Ruff available in link.
Buffalo News:  On the Beat chat.  Discussing all things Sabres including the Jets visit, starting at 3 pm est.
Illegal Curve Radio:  Interview with Sabres beat writer Mike Harrington.  Had a chance to catch up with the Sabres beat writer on Saturday who gave us some insight into this Sabres team and also said he is "looking forward to his first trip Winnipeg in January".