Winnipeg Free Press:  Will Ducky tribute inspire scorers?  The Jets are going to need something more than inspiration if they want to put the puck past Ryan Miller tonight.
TSN:  Antropov expected to return for Jets.  Good news for Jets fans.  Did you ever expect at the beginning of the season, that 14 games in, fans would be clamoring for Antropov's return?
Winnipeg Sun:  Ladd + Little + Wheeler = goals?  While they have slumped together and apart, perhaps this reunified trio can figure out the right addition to get some +'s in the +/- category.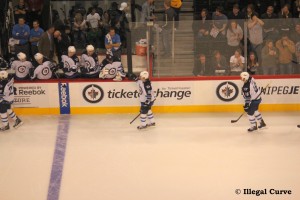 Jets Nation:  Ondrej Pavelec wants to make all the saves.  Something seems to have clicked with him after that Philly game.
Winnipeg Free Press:  Keane ready to make move behind bench.  Keane displays a great attitude and should be an asset wherever he ends up.
Jets opposition news – Buffalo Sabres:
Olean Times Herald:  Miller can 'live with' sitting.  Just too early to start giving up on Miller.  Cannot see the Sabres making this mistake with him.
Yahoo Sports: Sabres give Ryan Miller his chance at redemption.  Let us not forget that he did start the season 4-1 with a 1.61 GAA and a .950 save percentage.  Of course in the 'what have you done for me lately' nature of pro sports all people remember is his getting the yanked against the Flyers.