Globe and Mail:  Hockey fever comes to Winnipeg.  It felt like the playoffs, not the first practice in the history of the Jets 2.0.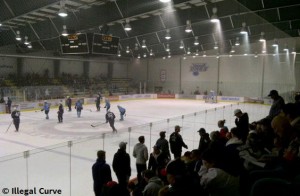 Winnipeg Free Press:  Jets return made real.  I saw little kids at the IcePlex who were just ecstatic that they had real, live NHL players who played for their city signing autographs for them.
After the jump Jets draw thousands, Big Buff ain't as big as last season and Jets get heartfelt fan response.
CBC:  Jets draw thousands to open practice.  Even people who didn't attend were talking about the practice.  Went to Polo and it was all anyone was discussing.
TSN:  Jets' Byfuglien weighs in under last year's first day weight.  He seemed pretty smooth out on the ice, so this appears to be much ado about nothing.
Winnipeg Free Press:  Jets get heartfelt fan response at training camp.  The unity and excitement in this city are just full to the brim.  Let's hope the Jets can use that emotion to play well in front of the home crowds this season.