Winnipeg Sun:  Jets could prove to be high flyers.  The Jets are going to need to see some breakout seasons from their forwards if they expect to make some noise this season.
Winnipeg Sun:  Jets goalie not faint of heart.  He says he is 100% again and that is good news for the Jets since they are going to need him to be a work horse this season.

Winnipeg Sun:  Jets Kane mentors Scheifele.  I still don't see the Jets keeping him around post training camp.  Why put that sort of pressure on him?  Give him another season (or two) to season up and then he will be a player worth watching.  We've seen what happens when you rush kids into the NHL too quickly.
After the jump Cormier haunted by hit, Meech aims to stick in Winnipeg, win a trip/Jets tickets in Sun contest and even NHL.com is melding the history of the Jets 1.0 with the Jets 2.o.  In 'Around the NHL' news Sabres hire a former Jets star as a coach, reading between lines at Oilers camp, Kipper not gonna hit 70 games for the Flames and the Red Wings have some competition for positions this camp.
Winnipeg Sun:  Cormier haunted by hit.  You don't want to excuse vicious behaviour but you hope that those were the actions of a young, immature kid and that he learnt his lesson and is ready to move forward.
Winnipeg Sun:  Jets Meech aims to go from stands to ice.  Whenever I went to a game at the Joe, it was always funny to bump into a fellow Pegger (usually wearing some form of Jets memorabilia) but Meech will find it a lot more 'homey' now.  Perhaps the hometown edge might move him up depth chart.
Winnipeg Sun:  Win trip, Jets tickets in Sun contest.  I suspect that this contest will have a number of people purchasing the Sun for their chance to win Jets tickets.
NHL.com:  Opening of camp intensifies hockey fever in Winnipeg.  Even NHL.com has trouble distinguishing between the old Jets 1.0 and these new Jets 2.0.  He says "The first Jets NHL game in Winnipeg since April 28, 1996…" and you can bet that this blending of history's will continue when 1000's of fans wear the original Jets jerseys to the exhibition games next week.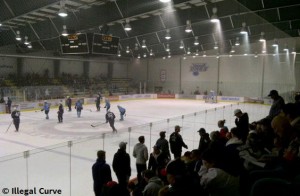 Around the NHL:
Buffalo News:  Sabres hire Numminen as third assistant coach.  With Buffalo coming to town (January 19th & March 5th), Jets fans will get a chance to cheer #27 for old times sake.
Edmonton Journal:  Reading between the lines at Oilers camp.  Are the Oilers rushing the young defenceman to fill that hole in the top 4 too quickly?
Calgary Sun:  Kipper would welcome lighter load.  6 straight seasons of 70+ games seems just insane but it appears the Flames will be breaking that streak this season.
The Detroit News:  Intense competition kicks off season for Red Wings.   Seems a surprise that the Red machine has any openings.