Winnipeg Free Press:  Decisions pending on Jets roster says Coach Noel.  Should be a nervous day or two for the remaining Jets bubble players.
Winnipeg Sun:  Jets have tough calls ahead.  The Jets top lines and top defensive pairings would appear to be set.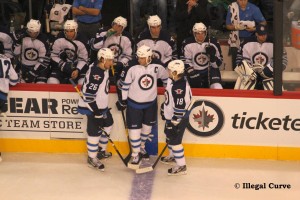 Chronicle Herald:  Jets don't want to repeat Thrashers' mistakes.  Preventing any long slumps will be the key this season.
Yahoo Sports:  Winnipeg Jets season preview.  Quite a long report on what Jets fans can expect this season.  Having experienced two of three pre-season games, I can honestly only say 1 thing with any authority and that is we are going to have one of the loudest, if not the loudest, building in the NHL.