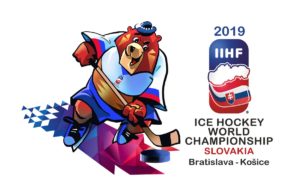 Last year no Jets participated in the World Championship as the team was not eliminated from the 2017-18 playoffs until after the tournament had wrapped up. This year the tournament gets underway in Bratislava and Košice, Slovakia starting on May 10th and running until May 26th.
During the end of season meetings with the players we found out some of the members of the Jets who will not be wearing the flag of their home country next month including:  Mark Scheifele (Canada), Blake Wheeler (USA), Andrew Copp (USA), Patrik Laine (Finland) and Nikolaj Ehlers (Denmark).
The only confirmed member of the Jets to date who will be joining his national team ahead of the World Championship is defenceman Bogdan Kiselevich according to Russia Hockey.
Jets who could still get the call:
– Tyler Myers (Canada) – played in 2010 & 2014.
– Josh Morrissey (Canada) – played in 2017. (While they might call to inquire as to his status, it sounds like he will be focused on healing his shoulder this offseason).
– Jacob Trouba (USA) – played in 2013, 2014 and 2017.
– Kyle Connor (USA) – played in 2016.
– Jack Roslovic (USA) – never played.
– Dustin Byfuglien (USA) – never played.
– Connor Hellebuyck (USA) – on the team in 2014, and played in 2015 and 2017. (looks like the US team already has three goalies committed).
– Kevin Hayes (USA) – played in 2014 and 2017.
– Kristian Vesalainen (Finland) – never played.
– Sami Niku (Finland) – never played.
– Marko Dano (Slovakia) – played in 2013, 2015, 2016 (this year it is taking place in his home country).
As always stay tuned for the latest Winnipeg Jets and Manitoba Moose news by keeping it locked to our web site  illegalcurve.com and on social media including Twitter | Facebook | Instagram.  You can also follow me on twitter as well (@icdave).