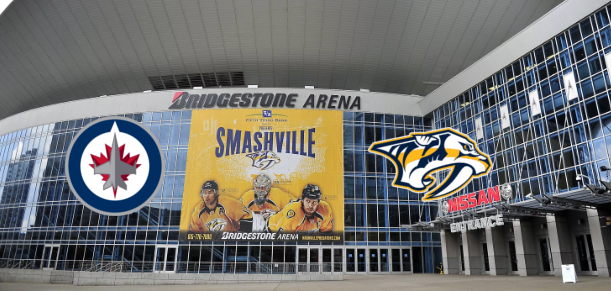 The critical game in this series is tonight at 8:30 pm in Nashville as both teams look to take that 3-2 series lead.
AM Skate Notes:
According to Ken Wiebe of the Winnipeg Sun a few things to take note of this morning at Bridgestone Arena.  Connor Hellebuyck changed up his routine to join his teammates and take some shots and Matt Hendricks stayed on late to get in some extra work which likely means he won't play tonight. Ken added this "Joel Armia has come off with the regular skaters and Jack Roslovic is staying on for extra work with the other expected scratches. Not expecting any changes to D based on who else is staying on the ice".
Projected lines and D pairs:
Ehlers-Scheifele-Wheeler
Connor-Stastny-Laine
Perreault-Little-Armia
Copp-Lowry-Tanev
Morrissey-Trouba
Enstrom-Byfuglien
Chiarot-Myers
Hellebuyck
Mason
Extra: Roslovic, Hendricks, Kulikov, Matthias, Dano, Morrow, Poolman and Hutchinson.
Jets audio:
Blake Wheeler
Mathieu Perreault
Adam Lowry
Josh Morrissey
Tyler Myers
Coach Maurice:  Finally having a healthy roster.  What does it mean for the Jets?  Impact of a player like Mathieu Perreault?  On why Hellebuyck took part in morning skate today.  Roster adjustments.  How much coaching is involved in getting the team ready for game 5? On how the young players have handled the seven-game experience.  No clean slate.  Animated chat with Mark Scheifele.  How big a role will tweaks factor in?  Does this feel like a coaching duel?  Is this what he expected from Paul Stastny?  His thoughts on the "lick seen around the world".
Preds audio:
Mattias Ekholm
P.K. Subban
Coach Laviolette
Audio courtesy of TSN 1290 Winnipeg.