Vancouver Sun:  Relocation to Winnipeg could open door to more.  I would love to to see the Nordiques and Whalers jerseys back in the league.
Wall Street Journal:  Creating the geographically accurate NHL map.  Looks good to us.

Toronto Star:  Thrashers jetting off to Winnipeg?  Wait and see.  Can the standard Toronto line about no corporate support be given a rest?  Winnipeg has more than both Ottawa and Edmonton (as per CBC report).
Winnipeg Free Press:  No press conference Tuesday.  If you go down to MTS Centre best you're going to get is a Kid Rock Concert.  But when the time comes to have a rally, it is going to be monumental.
11Alive News:  NHL Deputy Commish Dalsy says no announcement tomorrow.  Further quelling the idea that True North is having a press conference tomorrow.
Winnipeg Sun:  Return of the NHL press conference likely delayed.  People in Winnipeg have been waiting 15 years, a few more days won't kill them.
Atlanta Journal Constitution:  Spirit ends exclusivity on Hawks sale talks.  Appears that NBA commish Stern won't be rid of the ASG guys, but will NHL commish Bettman?
TSN:  Jets meter.  Jumps from 33 to 38.  We are getting quite close to "Dropping the Puck".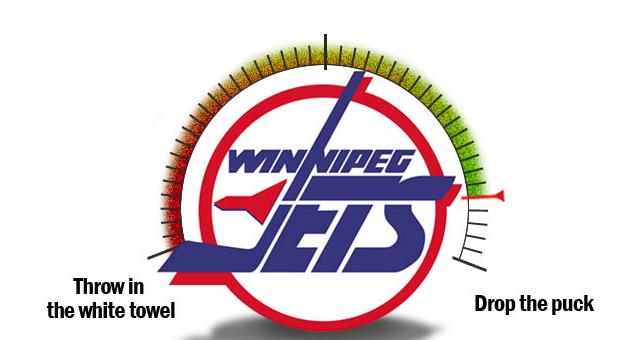 Click 'read more' for additional all the news links, blogs, and today's tweet of the day.
Atlanta Journal Constitution:  While Bettman hides, Thrashers slow death near complete.  The Thrashers fans are going to be left wondering, why Phoenix but not Atlanta?
Atlanta Journal Constitution:  Last local buyer in Atlanta likely out.  That would appear to be the end of the Thrashers in Atlanta.    Only possible rescue would have to come from NHL.
Atlanta Journal Constitution:  Fans have ideas on how to save Thrashers.  Fans continue to show they have way more interest than the ASG in keeping the Thrashers.
Winnipeg Sun:  Jets or bust?  Ironic that Chipman would become a part owner of the Coyotes.
Globe and Mail:  Winnipeg working to regain role as transportation 'gateway to west'.  Say what you will about our city, but the old sign as you entered the city limits was absolutely right when it described Winnipeg as  'one great city'.
Toronto Star:  Cheering for the Jets.  Why can't everyone just cheer for now, and then wait to tell us "I told you so" after our first non-sellout.
Toronto Sun:  Thrashers saga shows no signs of abating.  If things aren't cleared up by this week, then I give up.
Winnipeg Sun:  Paying the NHL piper.  Peggers will be sure to break open the piggy banks when given the opportunity.
NESN:  NHL will benefit from return to Winnipeg.  Winnipeg will impress everyone.  We now know what it takes to support our team.   Nice to see the sentiment from out East.

Blogs:
Yahoo:  Five best Winnipeg Jets teams of all time.  Makes you hate the Oilers so much.
Box Seats (Washington Post):  Thrashing about.  Hate that they keep throwing the 15,000 seats in MTS Centre in our face.  If they are charging $60 average price per ticket and someone with an 18,000 seat arena is charging $45 average price per ticket, what's the difference?  (Hint:  Advantage MTS Centre).
Yahoo:  Thrashers message to NHL – stay North.  Good summation of the situation.
The Purple Rod:  "Spirited Energy" creator says naming new NHL team Jets a bad idea.  With all due respect, if this is the guy who came up with "spirited energy as our slogan, I'd suggest we do the exact opposite of what he recommends.
Toro Magazine:  Jets could crash in Winnipeg.  I really wish these guys would do their homework before writing an article.  It has already been stated (by CBC) that Winnipeg has more corporate sponsors than Ottawa and Edmonton.
Video of the Day – Thrashers Chris Thornburn sounded off on Saturday: