Atlanta Journal Constitution:  Thrashers offer seats, little else of comfort.  Perhaps we need to set up Atlanta/Winnipeg sister city relationship.  The fans have been classy and respectful on both ends of this process.  Of course burning the jets banner was a bit much.
CBC:  Rally supports Thrashers in Atlanta.  As we discussed with Thrashers goalie Chris Mason on the Illegal Curve Radio show, the Thrashers have a small but dedicated and passionate fan base.
Globe and Mail: Why Winnipeg is the perfect place for another NHL team. A wonderful ode to the City of Winnipeg from an expat.  The NHL's return will be one more positive about our already great city.

Winnipeg Free Press:  Hungry for final NHL decision.  Why I'm inclined to believe Brunt is telling truth;
"David Thomson is a partner in True North Sports and Entertainment and owns the newspaper I work for. We don't move in the same social circles and I did not get this story from him," said Brunt. "But this story is on the front page of his newspaper."
Globe and Mail:  Is Gary Bettman a master manipulator or just lucky?  We will let you decide.
Calgary Herald:  Sutter thinks another Canadian team is a great idea.  We at IC love the good people of Red Deer, AB who seem to support NHL hockey in our city.
Winnipeg Sun:  Jets gear gone in a flash.  And they don't want to retain this logo?  Cuckoo Cuckoo.

Toronto Star:  Wild about 'Winterpeg'.  Gotta love hearing from the players like Andrew Ference who say these types of things.
"You're on Hockey Night in Canada. You're on the front page of the papers. You're around people in your community that absolutely love the sport and there's tremendous support for you. There are some guys that will seek that out and love it. There are (other) guys that don't like pressure; those are usually guys that don't play in the playoffs too much either."
Click 'read more' for additional all the news links, blogs, video related clips and today's tweet of the day.
Globe and Mail:  Complex NHL deal goes down to wire.  Can we go back to the feelings of elation that we were feeling on Thursday night?
Globe and Mail:  NHL's return to Winnipeg is Canada's redemption.  We're back baby, time in!
Winnipeg Sun:  Fans jump, sing and shinny for joy.  Our own Michael Remis went down while we were in-studio to capture the excitement and said it was pandemonium at Portage & Main.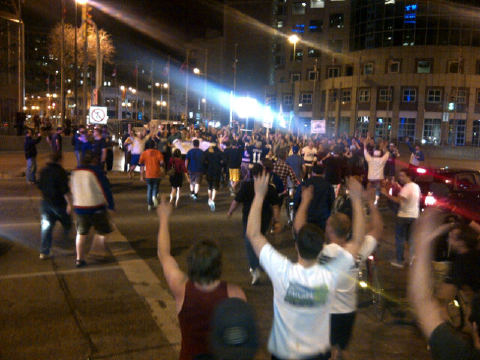 TSN:  Ex-Jet Essensa happy to see possible team return to Winnipeg.  If you're ready to hear Curt Keilback say "great save essensa" tune into tomorrow's Illegal Curve radio show as Curt will be joining the boys in-studio for the last hour (11am cst) of the show.
New York Times:  Fans rally as Thrashers fate remains uncertain.  Good for Thrashers fans for not going out without a fight.
Blogs:
Puck Daddy:  Thrashers fans rally, buy tickets as Winnipeg sale talks continue.  Winnipeg fans could learn a thing or two, like tailgating.
ESPN:  Thrashers relocation may have ripple effect.  While I agree with LeBrun that the below is possible, I would suggest it's not unlikely, it would never happen.
And by the way, even if the Thrashers and True North agreed to a deal, the board of governors and the league reserve the right to explore the possibility of keeping the team in Atlanta if a local interest suddenly pops up in the wake of the Winnipeg announcement. It's highly unlikely in my opinion, but it's a right the league has nonetheless.
ESPN:  Bruins goalie coach (Bob Essensa) says quality of Winnipeg can't be matched.  Even though the continuity with the old team is left behind with Phoenix, there is no doubt going to be a need to honour all the former Jets players.
Bird Watchers Anonymous:  Eulogizing the Thrashers.  Might be premature but another testament to the great hockey fans that supported the team.
National Post:  Winnipeg reclaims its place among the first rate.  NHL hockey will put Winnipeg back on the map.
Red's Notebook (Montreal Gazette):  Thrashers headed to Winnipeg.  Waiting another year would seem untenable at this point.  Of course if NHL guarantees a team to Winnipeg, then it would be worth the wait.
Fox Sports:  Wild could be heading back to Norris.  Makes sense to me.
CBC:  Winnipeg chatter enters Game 3.  Lots of Manitoba connections around the NHL.
National Post:  Winnipeg wins but a Nation rejoices.  I remember in 2004 at Game 6 of the Stanley Cup when about 10 guys from Winnipeg were down in Calgary and all the Flames fans were super supportive of the Jets.
Video:
CBC:  After 40 Minutes.  Starting at the 4:25 mark of the video.  Pierre LeBrun gives his thoughts on the situation.  I-Desk informs that Moose would remain affiliate of new team in Winnipeg.
CBC:  Coach's Corner.  Starting at the 5:07 mark of the video.  Donald S. Cherry gives the Peg props and says that CBC has promised him to be there for the 1st game at the MTS Centre.  Can you imagine the roar he will get?
AHL:
CBC:  AHL returning to St. John's?  If Thrashers do in fact move to Winnipeg, makes sense that True North retains the Moose as a minor league team.
Picture of the Day – Blue Jays game @ Skydome:

Video of the Day: