True North:  Drive to 13,000.  We will leave this link at the top for all those interested in purchasing NHL season tickets for next season.  It currently remains only open to corporate sponsors and Moose season ticket holders.  When the next update occurs (4:30 pm cst) be sure to check back on IC for the updated totals.  If you can't be online, check us out on twitter @illegalcurve as we will post the totals on there as well.
Drive to 13,000: 2,300 tickets were sold in the last 24 hours, the counter goes up from 1,870 to 4,170. With 5 of 8 presale groups activated, these will be a tough ticket to get for the general public.
Globe and Mail:  Season-ticket campaign going great in Winnipeg.  Anyone one bet that they hit 13,000 by Monday?

Winnipeg Sun:  Buyer beware NHL presale scalpers.  Scott Brown, spokesman for True North Sports and Entertainment says it best "buyer beware".
Winnipeg Free Press: Superstar Byfuglien looking forward to playing in front of Winnipeg crowd.  If he needs a fishing buddy I'd volunteer, unless he wears that suit.  Will be nice for him to be able to have friends and family from Minnesota come down to Winnipeg for a game.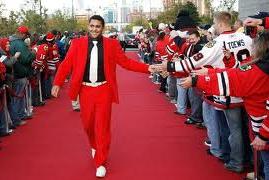 CBC:  Elliotte Friedman's 30 Thoughts.   Lots of Winnipeg talk focuses on the need to solidify the front office for the team here in the Peg.  He also has thoughts 2-5 about the new team including:
As mentioned, Noel is the frontrunner for the Winnipeg coaching job. But, the Moose wanted to interview Kirk Muller for the position before that hiring. The Canadiens declined permission.
Click 'read more' for additional all the news links, blogs, and today's picture of the day.
CTV Toronto:  Toronto city councillor says the city should ask for a second team. I think all the citizens of Toronto would be behind this initiative, except for the Ontario Teachers' Pension Plan and Kilmer Sports Inc. who own the Leafs monopoly of the city.
TSN:  Winnipeg is done but questions remain.  The league needs to stop under appreciating the TV deals it has in Canada.  Not exactly chump change.
CBC:  Winnipeg's NHL name waits on ticket drive. A friend of mine suggested that True North should have allowed the season ticket holders it is recruiting via the Drive to 13,000 to place one vote for the team's name as they register to put a down payment for their tickets.
Winnipeg Free Press:  Locking up Ladd should be first priority.  Amazing that without a name or logo (supposedly), True North is already under pressure to lock up it's RFA's.  For a great breakdown of the entire Thrashers squad make sure you check out Richard's comprehensive piece he wrote yesterday.
Winnipeg Free Press:  Drive to 13,000 must be achieved.  I agree with Gary.  For all the doubters who don't believe Winnipeg has what it takes to succeed in the NHL, this 'proof of life' may help quash that type of talk and it appears we are well on our way (approximately 14% sold in under 4 hours).
Winnipeg Free Press:  Chalk up Chipman's success to the four P's.  While all are important I think it is clear that True North as an organization exemplifies the 3rd P (Professionalism).
Winnipeg Free Press:  Regrets?  Chipman has two.  We have an easy solution for True North's Chipman.  Read our retrospective of the day it was announced the NHL was returning to Winnipeg, to see some pictures and video's of the day's events.
Globe and Mail:  Hockey's franchise value in eye of beholder.  They should be thanking their lucky stars they got the reported 60 million from True North for the relocation fee.  Perhaps it's time to kiss and make up with Jim Balsillie.
Winnipeg Sun:  Corporate Winnipeg sweet on NHL luxury suites.  So much for Winnipeg's lack of corporate support.  I've heard that the waiting list for a box at the MTS Centre is already massive.
Globe and Mail:  Winnipeg gets Thrashers as first reported in the Globe and Mail.  Well Bruce doesn't pull any punches when discussing how the Globe's report was discounted by its competition.
CBC (video):  Coach's Corner.  In case you missed it, Don and Ron had True North's Mark Chipman on, and the discussion ranged from the name of the team to the Queen.  Think it is pretty clear what Don Cherry wants the team to be called.

TSN:  Jets meter.  With all the news I missed the fact that TSN didn't get the memo that the only meter we are interested in anymore is the Drive to 13,000.  Amazingly they still won't allow their meter to hit 100% as they have chosen to await BOG approval.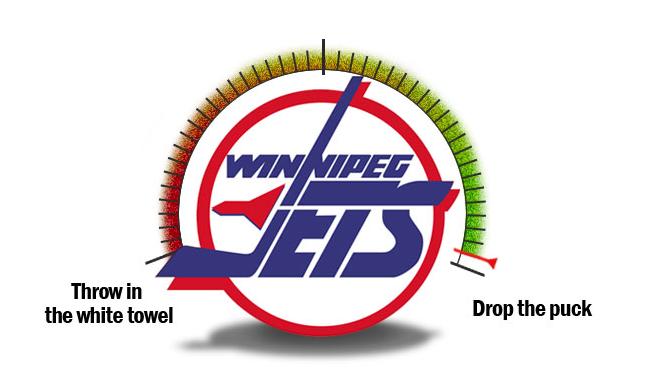 AHL:
Globe and Mail:  Manitoba Moose headed to St. John's.  I'm really surprised the team isn't moving to Regina, Saskatchewan.  Would make it easy for call-ups.
Blogs:
Atlanta Journal Constitution:  Thrashers holding a wake starting tomorrow at 11am.  I still go on YouTube and watch the "funeral" Winnipeg held at Winnipeg Arena when the Jets left.  Gotta feel for the fans in Georgia.
Cross Checks (ESPN):  Breaking down Bettman's presser.  Very odd that we've heard zero out of Phoenix since the Atlanta news broke.
Bird Watchers Anonymous:  The Thrashers chapter comes to a close.  This was one of the best Thrashers blogs you could find and The Falconer led his dedicated bunch well.
Picture of the Day: