Winnipeg Free Press:  Winnipeg's NHL team on hunt for hear coach.  Would be nice, but not essential to have it done by the draft.
National Post:  Fans make Winnipeg 'exciting' place to play.  Perhaps things would have gone better for Dany Heatley had he had the pressure of a Canadian market.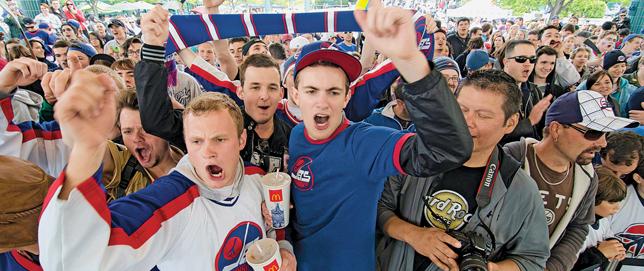 Winnipeg Free Press:  Chevy, Zinger whittling away at it.  These are going to be the two busiest guys in Winnipeg for the next few months.  If you missed the show, we had both on IC Radio yesterday.
Winnipeg Free Press:  An NHL team by any other name… It appears that True North is delaying the name.  That's either because they've chosen to go in another direction or changed their mind and are furiously trying to put together a "new" Jets jersey.
More news and blogs after the jump.
Edmonton Journal:  More Hockey World.  Couple of news and notes mentioning our new franchise.  Let's either go with Jets or Falcons, not a fan of Golden Jets.
Other News:
Toronto Sun:  Heritage Classic that much more special.  Anyone thinking that the next Heritage Classic should take place at the new Winnipeg stadium.
Blogs:
TSN:  Reporters Thumbs up and down.  Steve Simmons gives True North a thumbs down.
Forbes:  Hawks and Thrashers $500 million offer.  Would appear to be a moot point at the present time.
The Hockey News:  The reality behind the Winnipeg-NHL relationship.  At the end of the day NHL returned to Winnipeg as a business decision, nothing more.
Arena Digest:  At 15k, MTS Centre is perfect size, or is it?  We would point out that numbers aren't as important as amount they spend per ticket.