Globe & Mail: David Thomson's calculated romance with the NHL A look into the life of  the world's 17th richest man.
TSN:  What's in a name.  Clearly a lot.
Winnipeg Sun:  True North denies whiteout link.  No point in denying your heritage.
Chicago Sun-Times:  Cheveldayoff offered Winnipeg GM position.  Sounds like they have had their eyes on him for awhile.
Winnipeg free Press:  True North makes statement about GM firing.  Does this mean an entirely fresh start for the team?
Winnipeg Sun:  NHL the hottest ticket in town.  I actually had some disbelief when I heard it sold out in 17 minutes.  Expected it by Sunday but not in 17 minutes.  Well done Winnipeg.
Winnipeg Sun:  Bettman is still a jerk.  But I'm sure he's happy Winnipeg's back in the league.  Isn't he??  Just look at his reaction when he read Brunt's story on his Blackberry.

Winnipeg Sun:  Desperate fans who failed to score hunt online.  There are tales a plenty of people looking online for tickets today.  Heard that there were tickets on Kijiji for Game 1 for $3,200.00.
Edmonton Journal:  McVie happy for Winnipeg.  Seems like everyone who ever was associated with the old team, is coming out in favour of our city.
CBC:  Gauging the value of an NHL team in Winnipeg.   I'd say based on what we saw yesterday, the value is high.
Winnipeg Sun:  Let's get downtown.   The city's revitalization was already on its way but this will accelerate it.
Edmonton Sun:  'Peg stations battle for hockey broadcast rights.  From the comments I've been reading from younger (18-35) readers, they sure seem impressed with 1290's coverage of the Return of the NHL to Winnipeg.
Winnipeg Sun:  True North purchases Whiteout trademark. That's an interesting tidbit.  Perhaps people should be excited if True North is bringing back the traditions.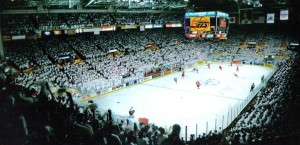 To read more articles, see some video and watch today's Video of the Day, click read more.
Winnipeg Sun:  Thrashers give kudos to the fans.  Just wait till they get into the arena for game 1.  Going to blow the roof off the MTS Centre.
TSN:  Thrashers' Dudley not retained.  Appears that True North wants a new direction.
Star-Tribune:  Q&A with Keith Tkachuk.  Still one of the guys who still returns to Winnipeg.
Video:
CBC (starts at 2:53):  Coach's Corner.  Says it will be a goldmine here in Winnipeg.
CBC (starts at 1:43):  Hotstove.  Eric Francis says it actually took 2 minutes, not 17 to sell all the tickets.
Video of the Day – Kris King speaks about his time in Winnipeg: